On 10 June 2023, MIT Hong Kong Innovation Node collaborated with The Hong Kong Institute of Urban Design (HKIUD) to organise a research and design thinking workshop, exploring inter-modal urban accessibility across five Hong Kong locations (i.e. Mid-Levels, Central, West Kowloon, Sham Shui Po and Tseung Kwan O) together with the urban design departments at The University of Hong Kong, City University of Hong Kong and Chinese University Hong Kong.
The workshop consisted of two parts: a morning experiential event and an afternoon discussion session. Participants were divided into 5 groups and each of them focused on a specific site. The morning fieldwork involved data tracking the decision-making processes of the student groups who were restricted by disability, ageing and luggage handicaps during their journeys, while the discussion session reflected on the morning journey and analysed their collected data. The participants then identified the issues, brainstormed with team mates and suggested solutions to the issues.
Morning Fieldwork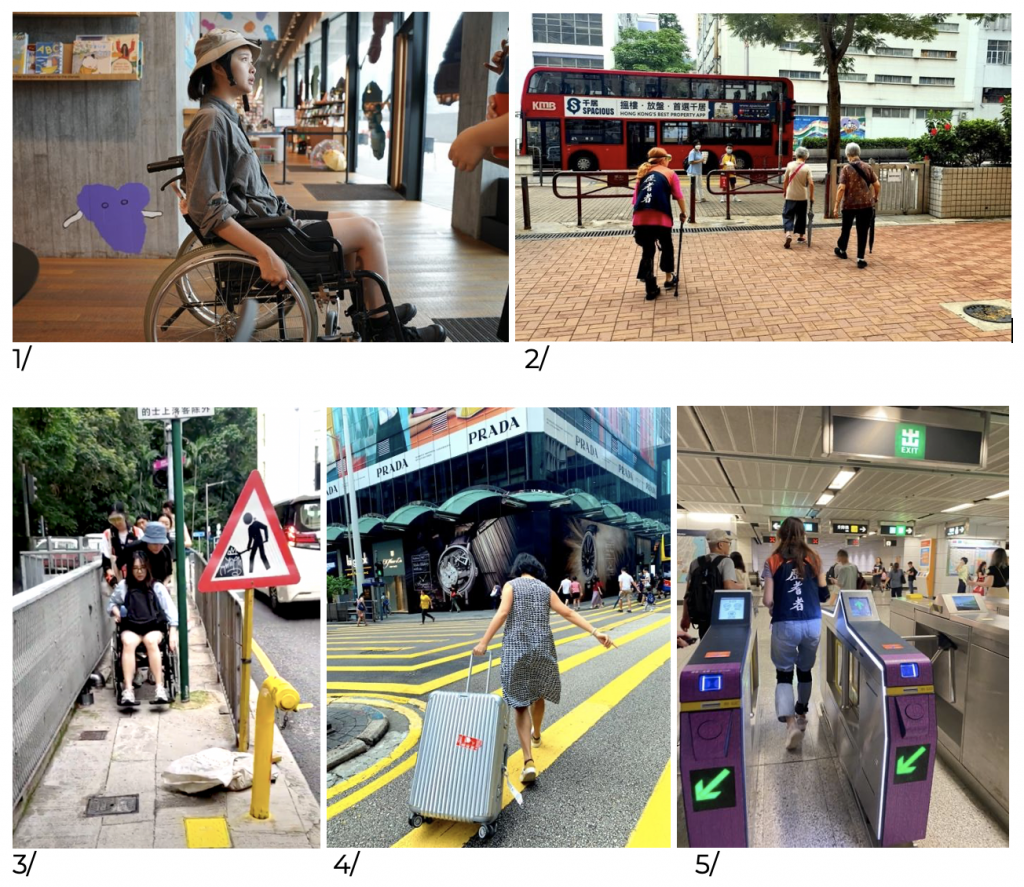 Afternoon workshop at MIT Hong Kong Innovation Node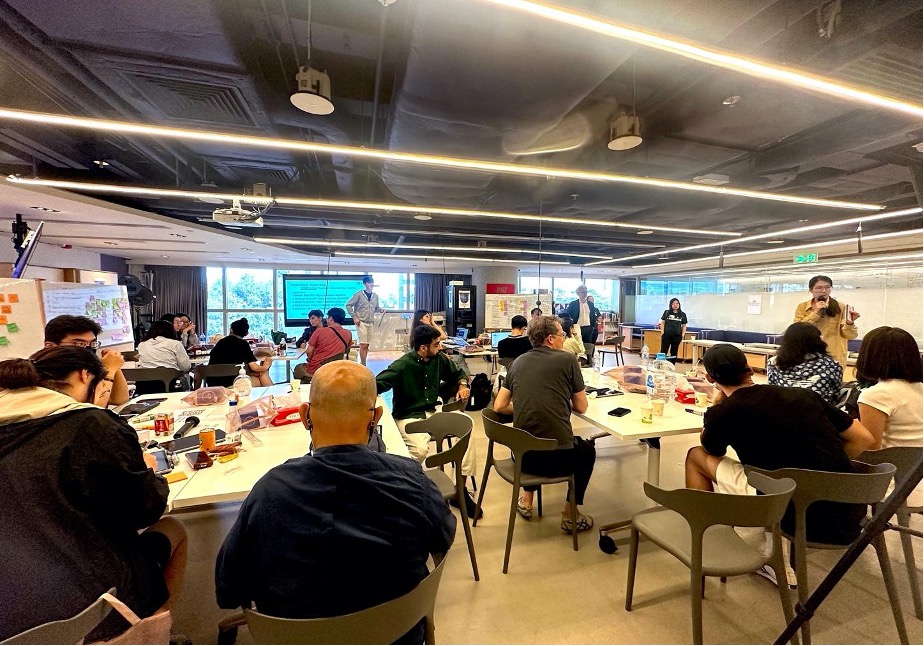 Team 1: Sham Shui Po
Our caring team proposed to re-claim public reach from car space by limiting cars, defining areas for cars, bicycles and pedestrians, and adding more colours on signage. They also suggested adding facilities such as lifts to enhance accessibilities.
Team 2: Tseung Kwan O
Our creative team suggested an interface design which aims to be fun, easy, simple and intuitive. Proposed examples include AR glasses, personal led path in floor, stand up wheelchair, walking bonus and 3D mall city. The group voted for the personal led path on the floor as the best solution.
Team 3: West Kowloon Cultural District
Our innovative team has been inspired by the idea of "iBird", the future of spatial computing which aims to empower the elderly and needy with accessibility and way-finding tools.
Team 4: Mid-levels
Our thoughtful team has identified stairs as a major barrier for the elderly and wheelchair users. Therefore they advocated "Elevate your self" through 3 ways – using stair lift for going up, enhancing the visual cues to orientation and commuting by cable car.
Team 5: Central
Our ambitious team's pitch title is "Kool Central for all".  They proposed making the pavement flatter and more user-friendly for the elderly and wheelchair users. For more comfort, they also suggested creating a cool route finding app, fans run by solar energy, water sprinklers on the ground and an air-conditioned podium platform.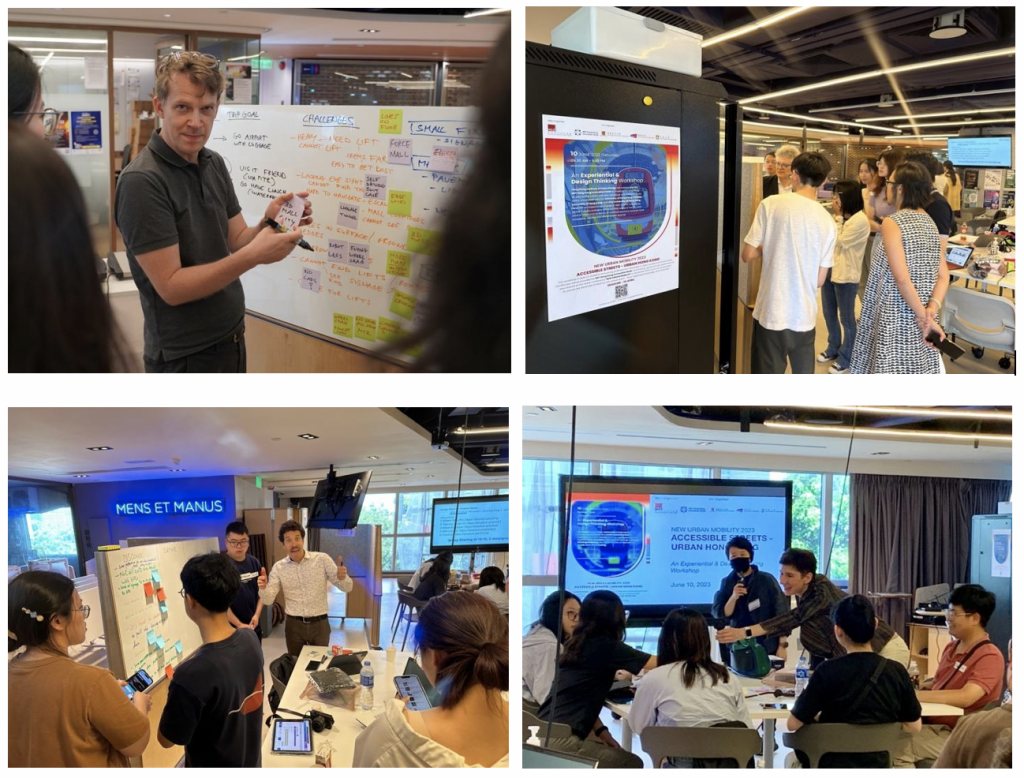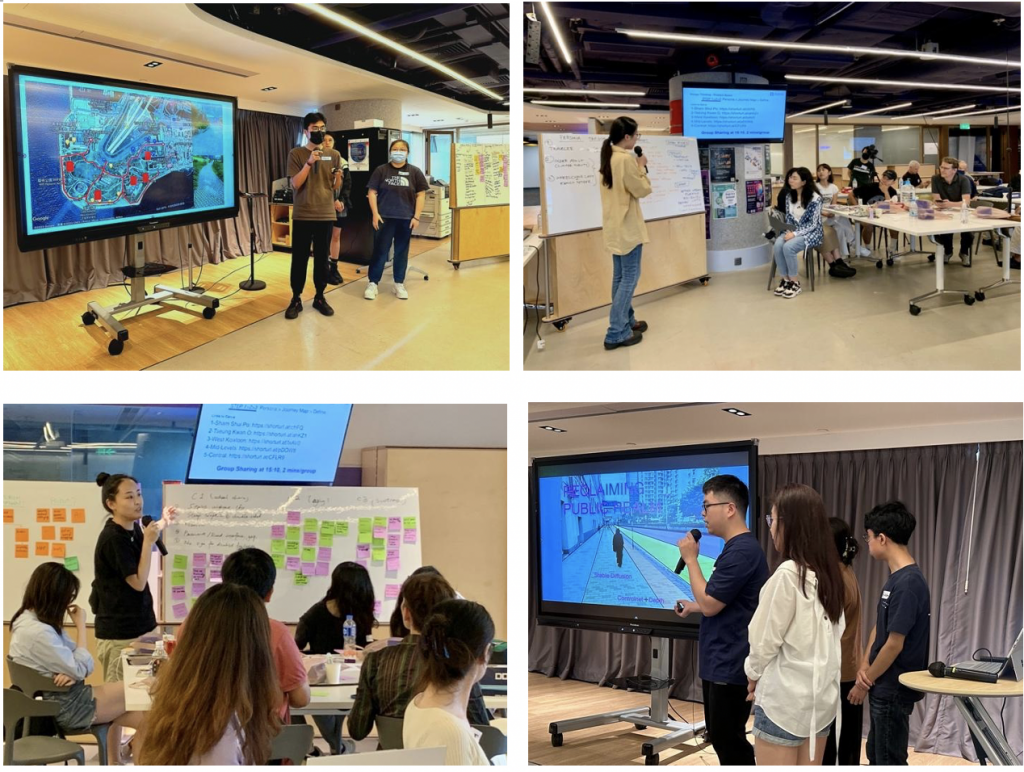 Students' feedbacks:
"This workshop and the training materials have enabled and facilitated me to apply Design Thinking methodology on problem solving. "
"The site exploration was interesting and helpful for discovering the problem."
"I have learnt something new about new urban mobility in Hong Kong."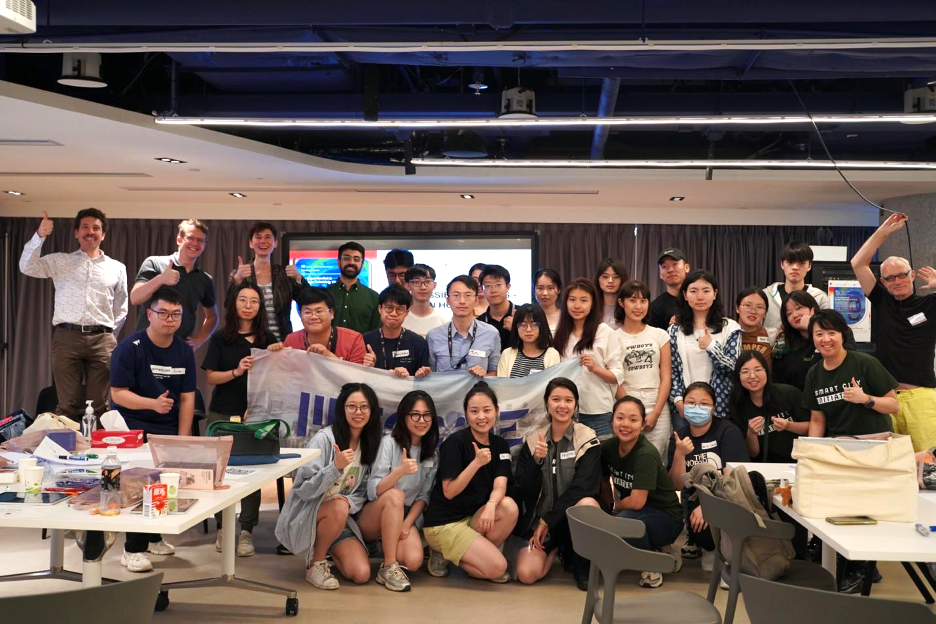 Main Organisers:
Hong Kong Institute of Urban Design
MIT Hong Kong Innovation Node
Co-organisers:
The Chinese University of Hong Kong 香港中文大學 – CUHK
City University of Hong Kong
The University of Hong Kong – HKU – 香港大學
Supporting Organisations:
Eldpathy 歷耆者
Citybus
P&T Group 巴馬丹拿集團
Café Levande
Invited Participants:
Michael FONG, Director – Civil Engineering and Development Department (CEDD)
Paul ZIMMERMAN, District Councillor at Southern District Council
Roger WONG, Head of People Services – Bravo Transport
Jan LEE, Executive Director at the Urban Land Institute Hong Kong
Stephen LUK, Regional Vice President Design Services – Hyatt Hotels Corporation
Julian KWONG, Chairman – Community for Road Safety Hong Kong
Sam LOK, Senior Manager, CEO's Office – Chinachem
Irene LO, Former Principal Ballerina at Hong Kong Ballet – Associate Director of Training
James OCKENDEN, Journalist – TransitJam