The HKMIEF Youth Leadership ESG Workshop, jointly organised by MIT Hong Kong Innovation Node (MIT Node) and Hong Kong Macau International Exchange Foundation (HKMIEF), took place on 8th and 9th August 2023. The workshop aimed to foster sustainability and Environmental, Social, and Governance (ESG) awareness among secondary school students in Hong Kong. The event featured three speakers from diverse industries who presented sustainability challenges. The students formed six teams and two teams chose to focus on one of the three challenges presented by the speakers.
The workshop incorporated the renowned Design Thinking methodology, which was adopted and facilitated by MIT Node. Design Thinking is a human-centred approach to problem-solving that emphasises empathy, creativity, and collaboration. It guides participants through a structured process to understand user needs, generate innovative ideas, and develop practical solutions.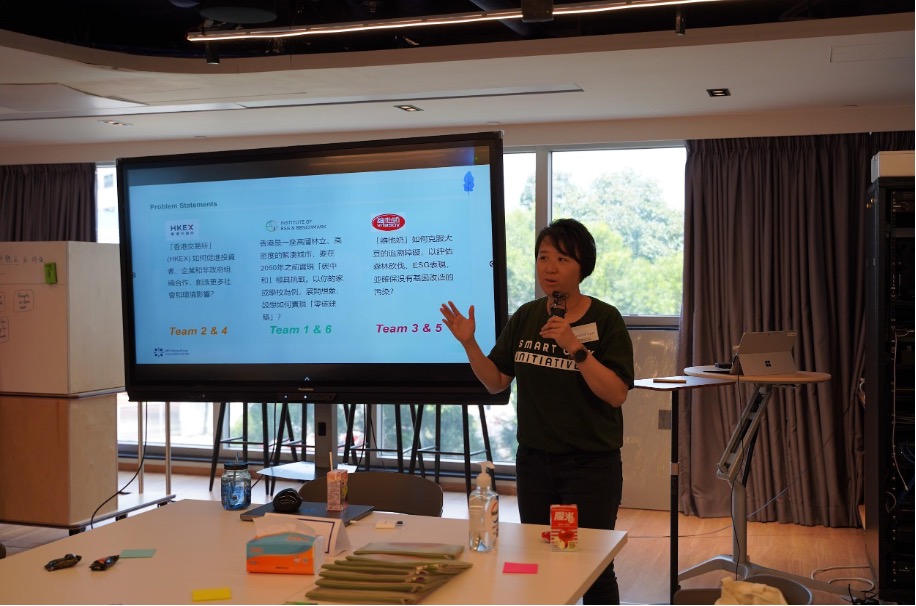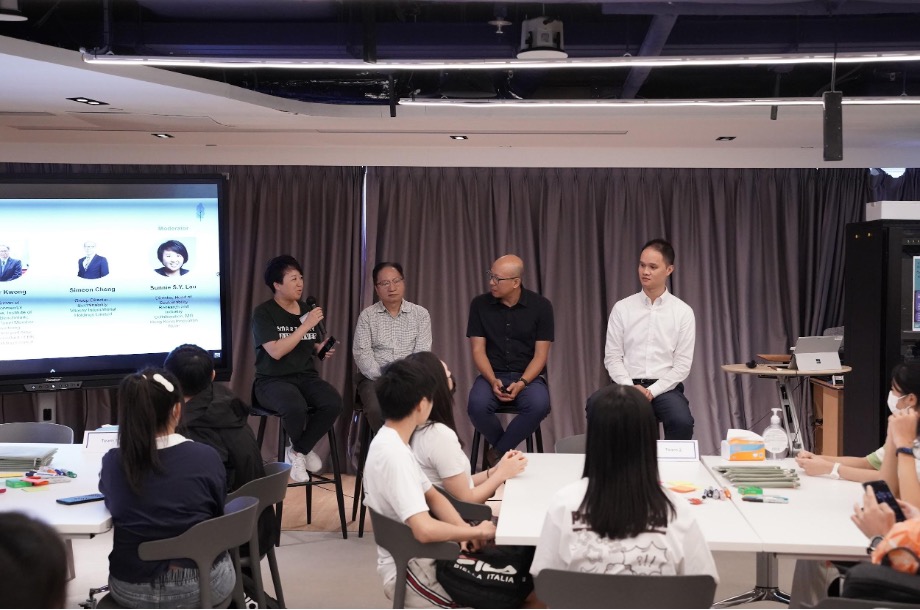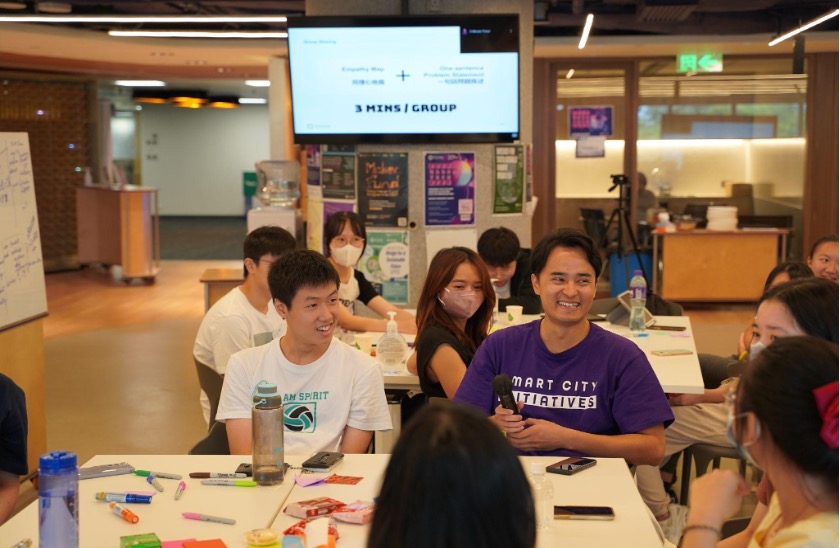 The six student teams selected one of the three challenges presented by the speakers. Guided by mentors and facilitators, the teams engaged in the design thinking process to develop innovative solutions. They brainstormed ideas, conducted research, and analysed the challenges from various perspectives to propose feasible and impactful strategies.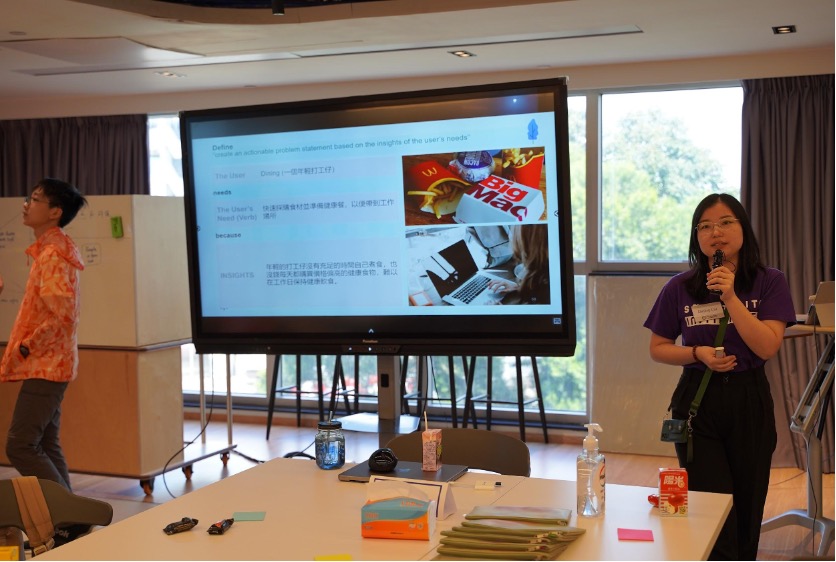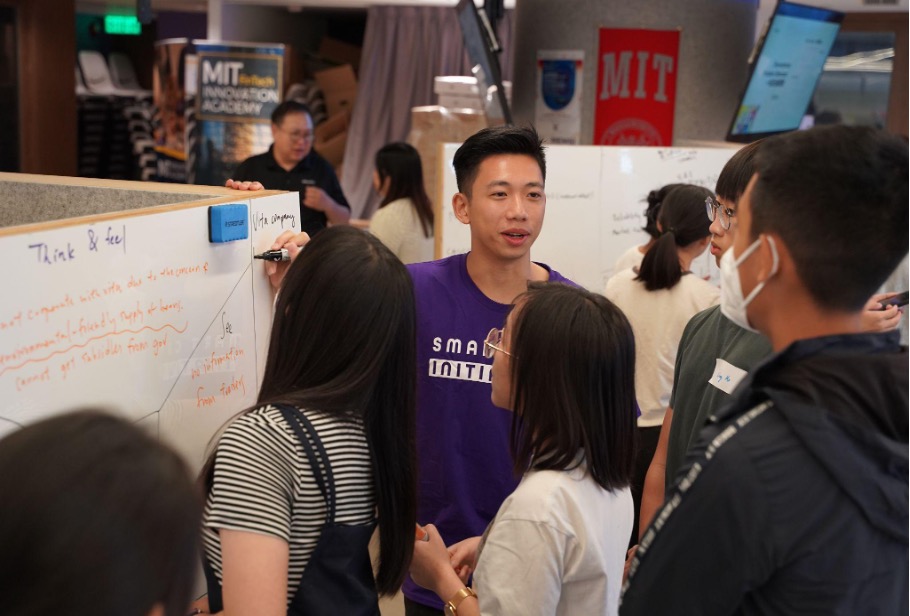 Challenge 1: Facilitating Collaboration for Social and Environmental Impact
Andy Lau, Head of Corporate Social Responsibility and Foundation at Hong Kong Exchanges and Clearing Limited (HKEX), shared insights on the "Corporate Sustainability Journey." He presented the challenge of facilitating collaboration among investors, corporates, and NGOs to create more social and environmental impacts.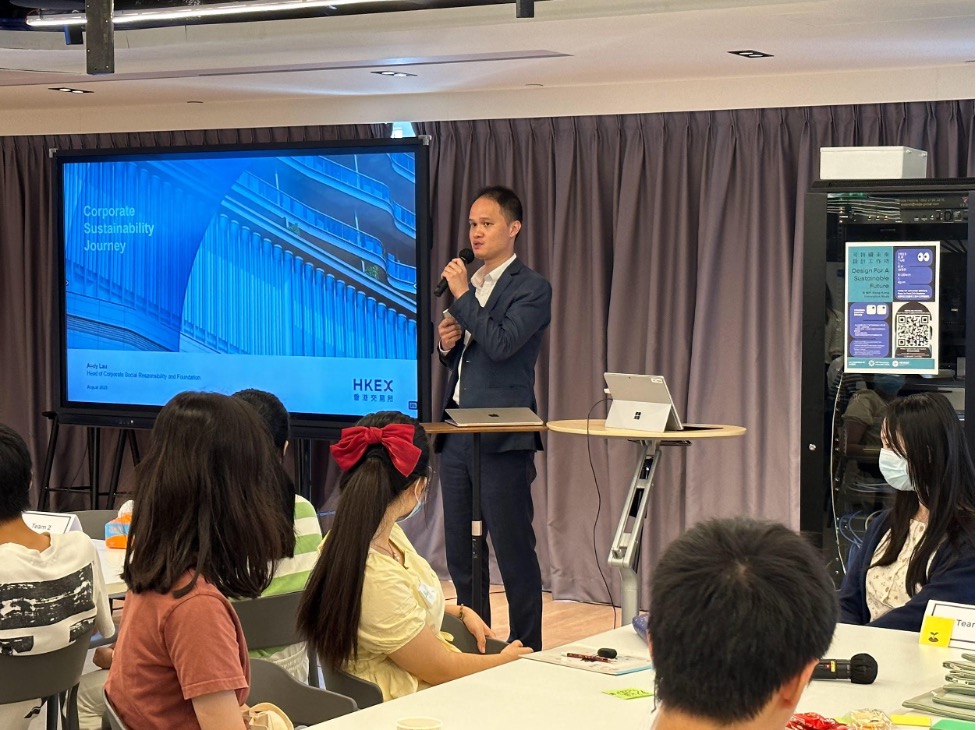 Student Solution 1a: EX2SG
The team EX2SG developed a solution in the form of a digital communication platform. This platform aimed to enhance collaboration among investors, companies, and NGOs by providing a comprehensive and user-friendly space for exchanging information, asking questions, and proposing improvements. The team's goal was to foster transparency, understanding, and inspiration among companies, ultimately promoting the widespread adoption of ESG practices worldwide.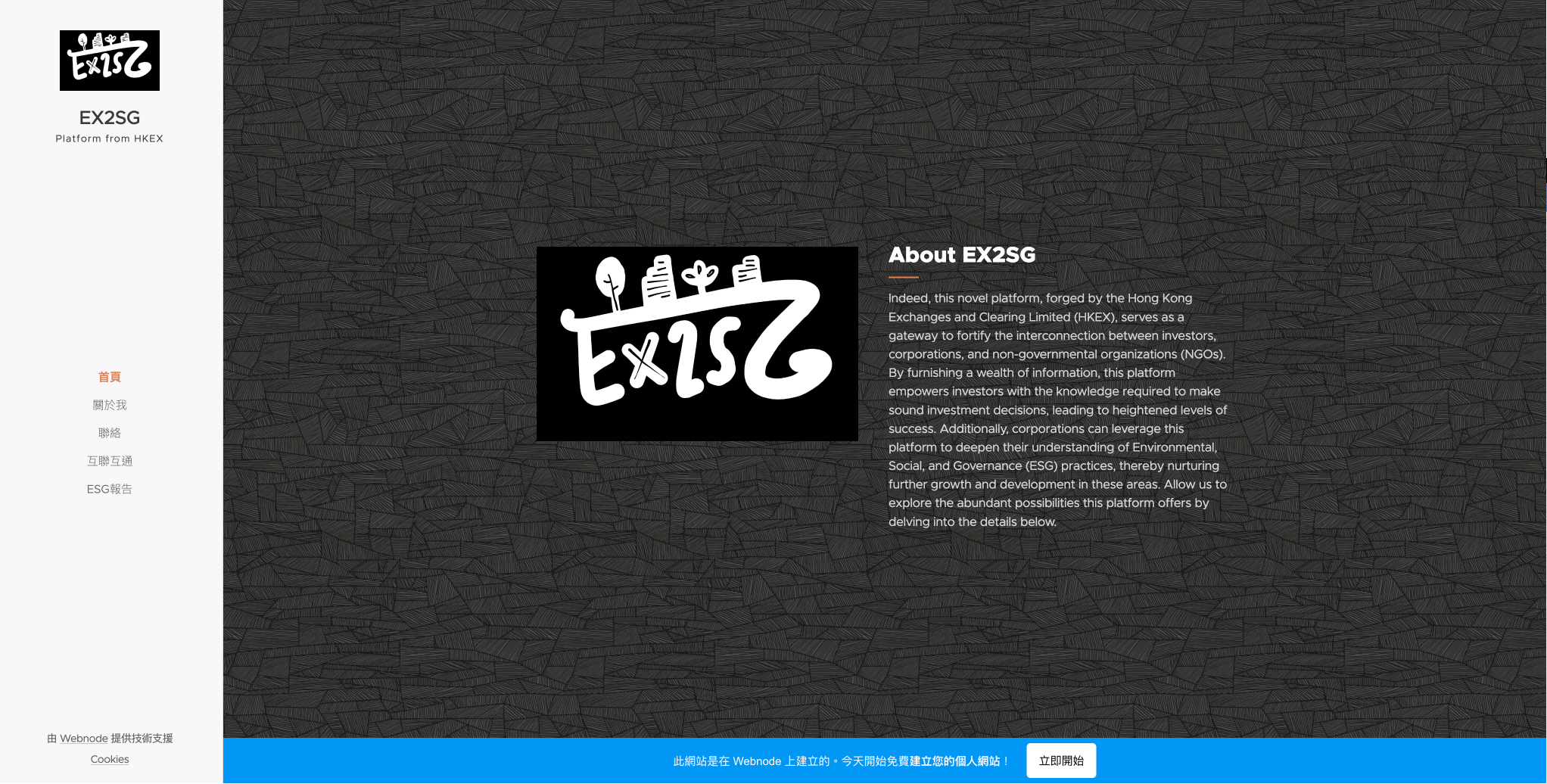 Student Solution 1b: Kirbyy
Team Kirbyy approached the challenge from the perspective of novice investors and developed a mobile application that provides reliable ESG and investment information to its target users. Team Kirbyy's solution involves integrating existing ESG indices in the market to provide investors, especially novice investors, with high-quality and concise information. Their mobile application offers a streamlined company report that includes key indicators, recent rankings, and ESG rankings specifically tailored to Hong Kong-based companies. Additionally, the app provides a user-friendly interface with easy-to-understand information and offers a personalised Q&A feature where industry professionals provide expert answers to users' inquiries. By consolidating ESG data and offering simplified yet comprehensive reports, Team Kirbyy's solution empowers investors to make informed decisions aligned with their ESG values.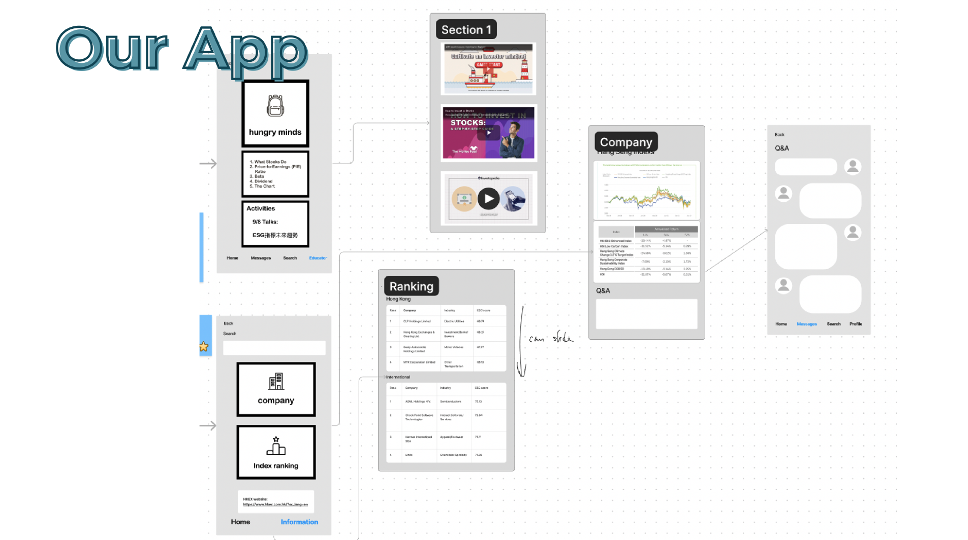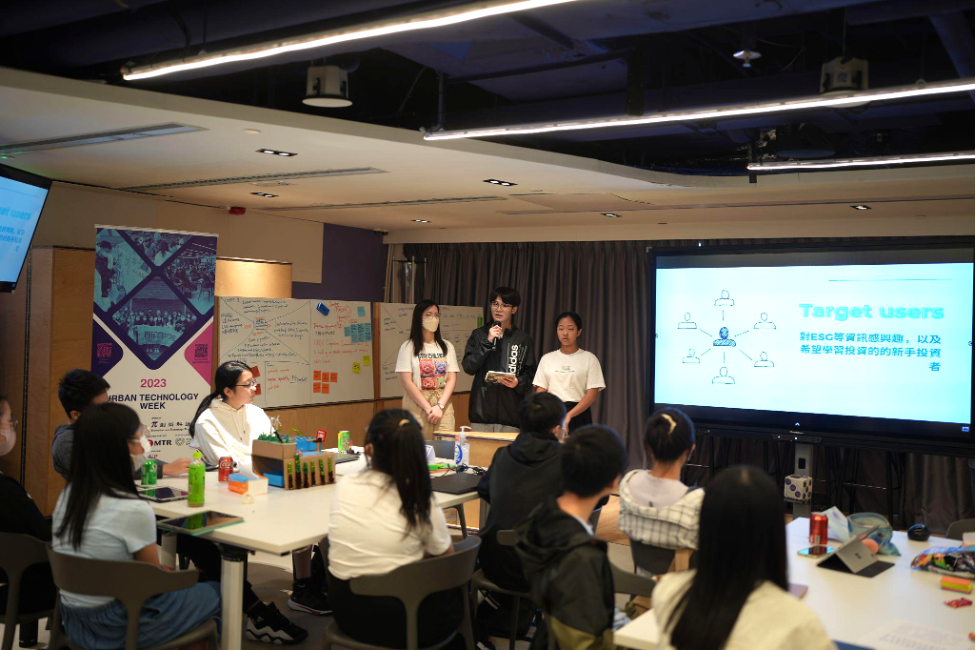 Challenge 2: Achieving Zero Carbon Buildings in Hong Kong
Victor Kwong, Chairman of the Environmental Committee at the Institute of ESG & Benchmark, Advisory Panel Member of Practising Governance, and part-time Senior Consultant of HK Green Building Council, presented on "Future Carbon Net Zero Buildings for Hong Kong." He introduced the challenge of achieving a Zero Carbon Building in Hong Kong, a high-density, high-rise, and compact city, before 2050 through innovative thinking, using students' homes or schools as examples.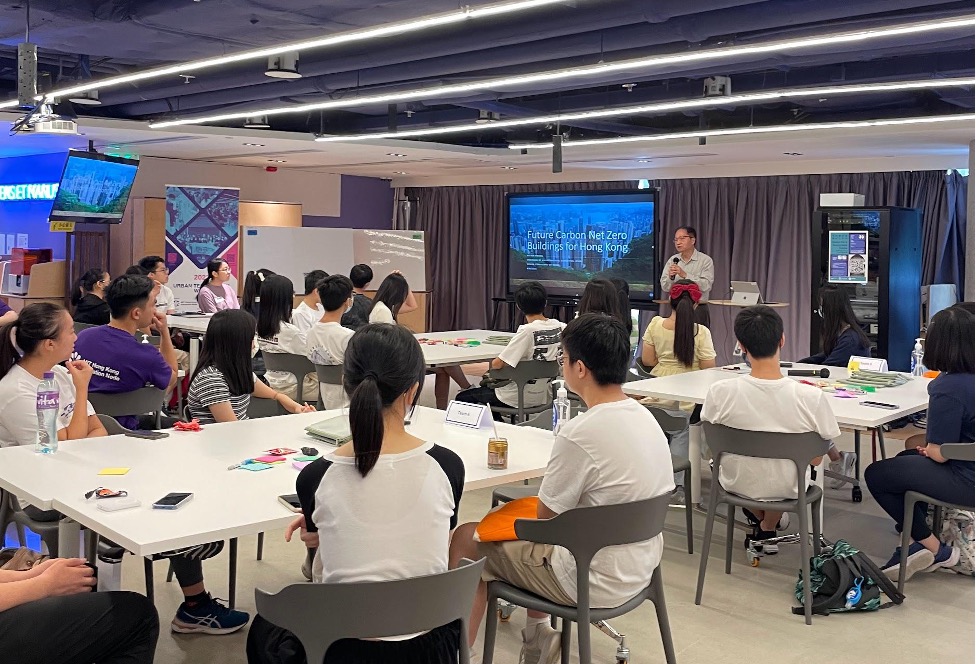 Student Solution 2a: Hydrogen
Team Hydrogen has developed a solution that benefits both the staff and students of the school as well as anyone who indirectly receives the advantages of these initiatives. The team collaborates with the government and technology companies to achieve these goals. The benefits of this solution are manifold: the school and students enjoy access to free and advanced equipment, the government can showcase the school as a model of an environmentally-friendly institution, and technology companies can demonstrate their commitment to ESG, establish a positive business image, and showcase their products. Overall, Team Hydrogen's solution aims to create a sustainable and eco-friendly environment within the school while fostering partnerships and demonstrating the benefits of environmentally-conscious practices to various stakeholders.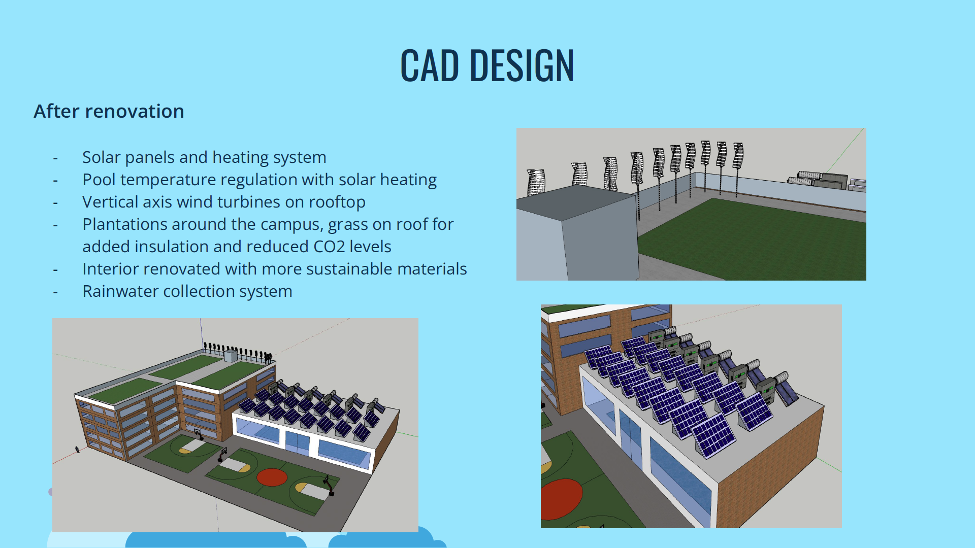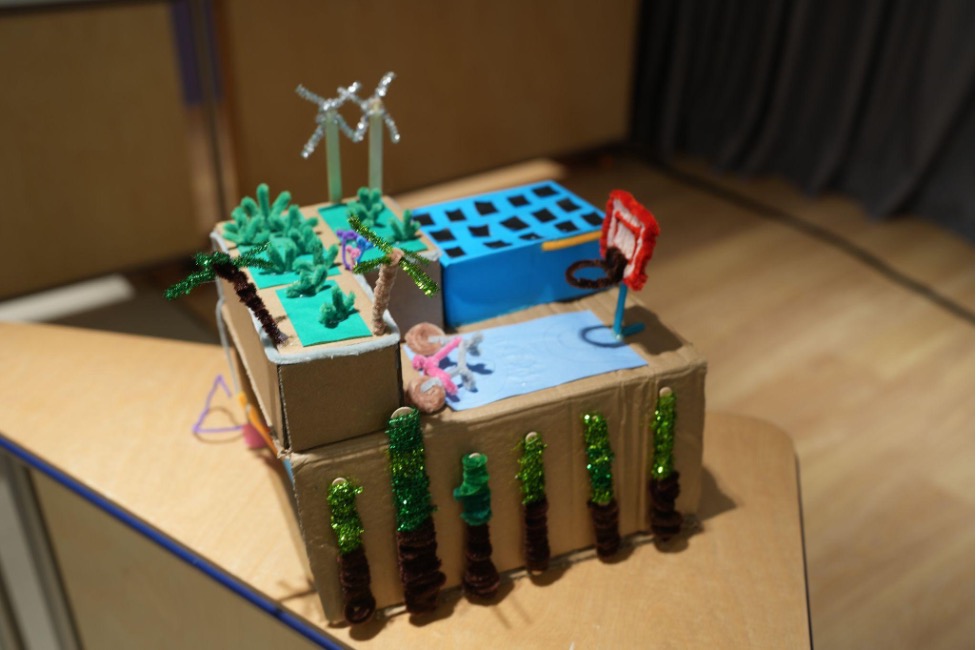 Student Solution 2b: Green School
The student project aims to create a more environmentally sustainable learning environment for students and future generations. The solution focuses on constructing a "Zero Carbon Campus" using eco-friendly materials and striving for zero carbon emissions throughout the construction process. The project encompasses three main aspects: design, equipment, and renewable energy integration. By serving as a template for other schools, it aims to contribute to the goal of achieving carbon neutrality in Hong Kong's schools by 2050. The success of the idea can be measured by factors such as the level of community engagement within the school and the economic costs associated with implementing the project. Overall, the student team's initiative strives to provide a greener and more meaningful learning environment for students while making a valuable contribution towards creating a sustainable future.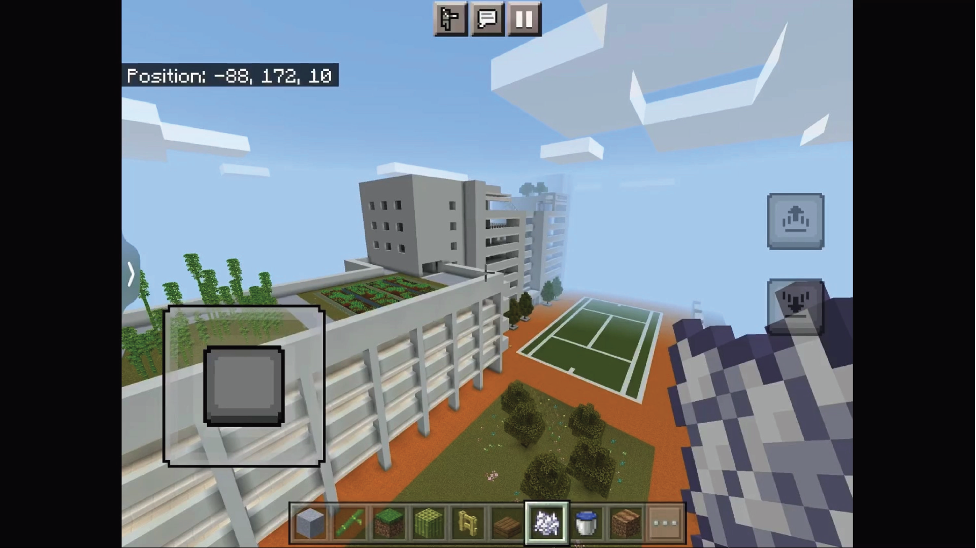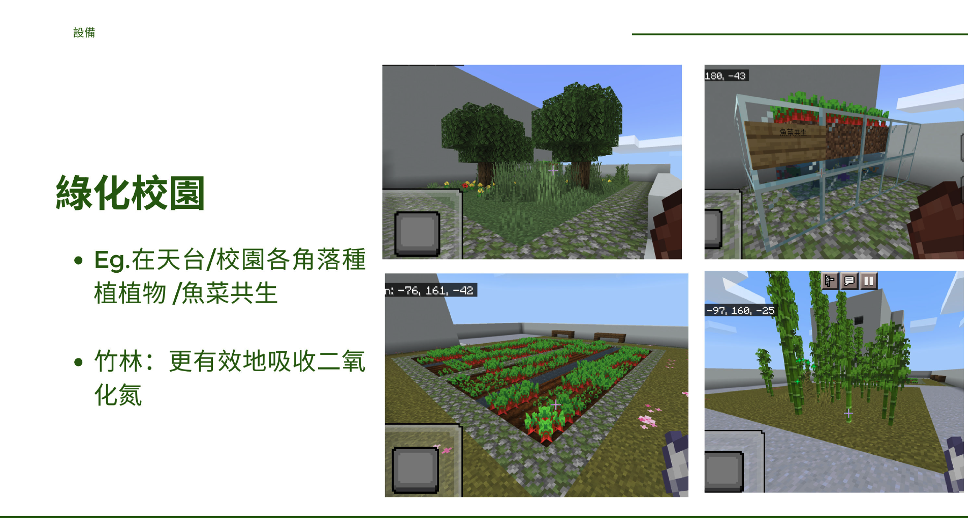 Challenge 3: Overcoming Soy Traceability for Sustainable Practices
Simeon Cheng, Group Director – Sustainability at Vitasoy International Holdings Limited, shared insights into the sustainability framework and challenges faced by Vitasoy. He presented the challenge of overcoming soy traceability issues to assess deforestation, ESG performance, and ensure non-GMO contamination within the soy supply chain.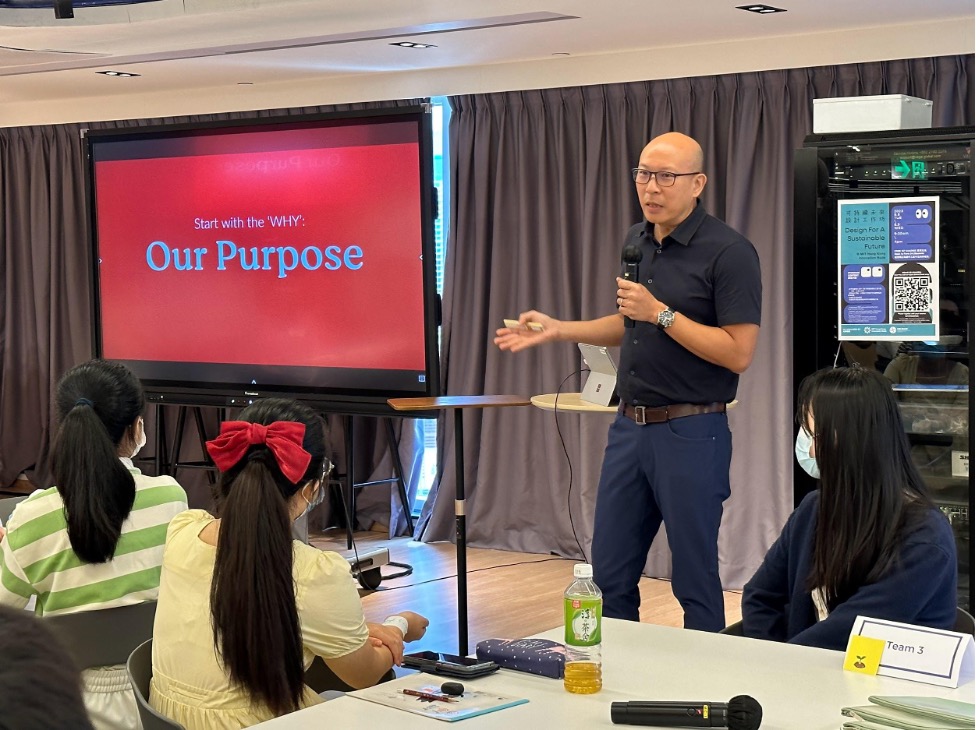 Student Solution 3a: Emily International
The student team, Emily International, developed an app called AgriConnect, which consists of three main components. Firstly, the app facilitates the selection of appropriate farms based on specific criteria like water quality, soil quality, deforestation rate, and carbon footprint. Farms that meet these criteria receive a certificate that can be renewed after undergoing regular checks. Secondly, the app focuses on educating farmers and providing them with necessary equipment to enhance their agricultural practices. Lastly, AgriConnect enables farmers to report their ESG (Environmental, Social, and Governance) practices and harvest information. Overall, the app aims to promote sustainable farming practices, improve transparency in the agricultural sector, and incentivize farmers to adopt environmentally friendly approaches.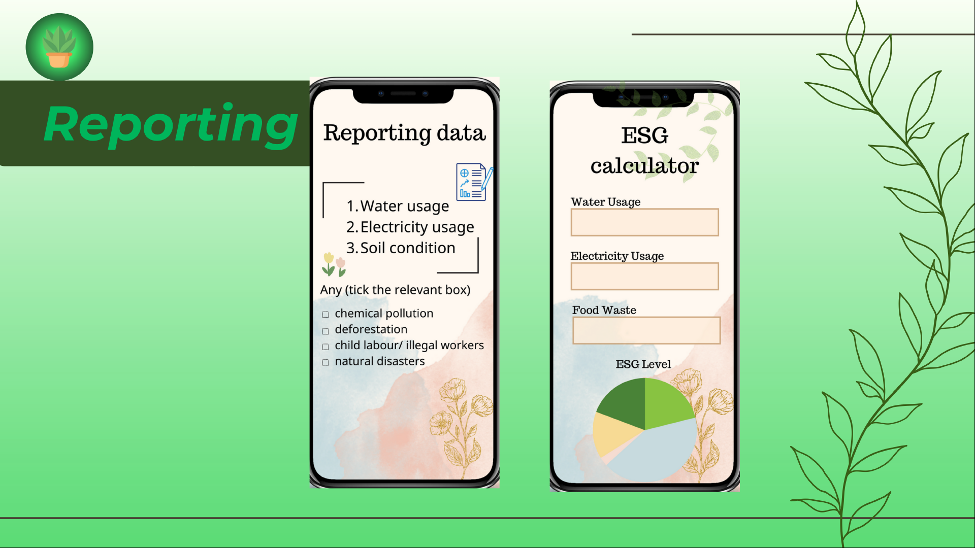 Student Solution 3b: Soytrack+
The student team recognised the concerns of investors regarding the safety and origin of soybeans and the reluctance of traders to disclose information. To address these issues for Vitasoy, they proposed a traceability system where farmers would provide detailed information about soybeans through an online form, and each soybean bag would be tagged with a QR code for easy access to the information. Vitasoy would serve as the central organiser of this data. Additionally, they suggested attaching QR codes to Vitasoy product packaging to provide customers and potential investors with information about the soybeans used. This solution aimed to increase transparency, promote informed decision-making, and build trust in Vitasoy's products and supply chain.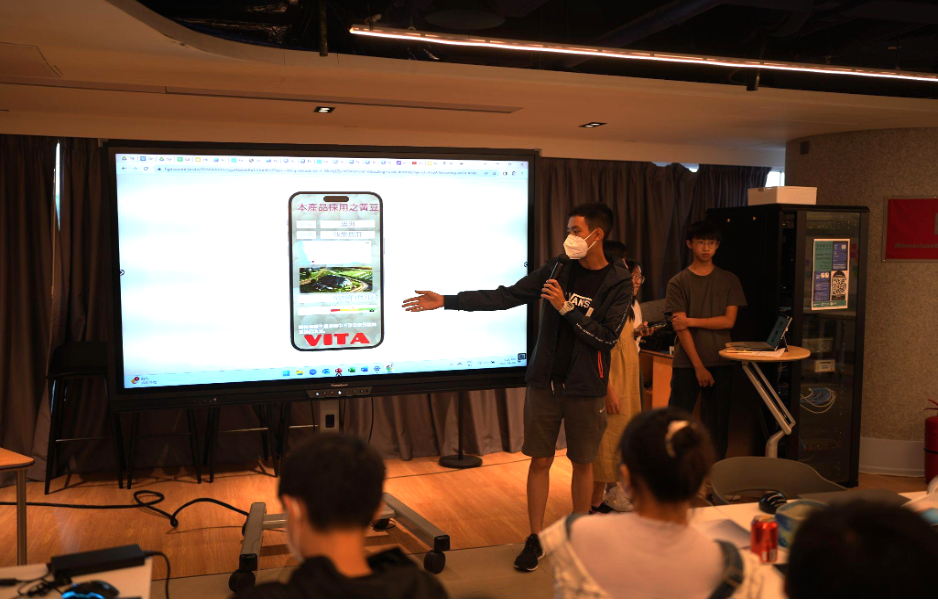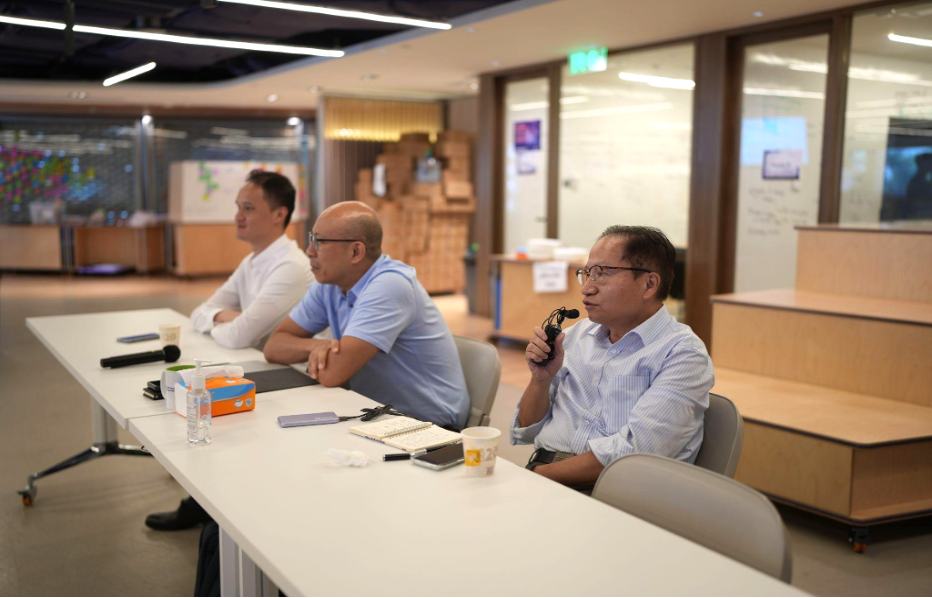 At the conclusion of the workshop, each team presented their solutions to the three speakers. The teams showcased their creative ideas, highlighting the potential impact and feasibility of their proposed solutions. Certificates of participation were distributed to all the students, recognizing their dedication and enthusiasm throughout the workshop.
The HKMIEF Youth Leadership ESG Workshop provided a valuable platform for secondary school students to immerse themselves in the world of sustainability and ESG. The event successfully fostered awareness and understanding of the challenges faced by local industries in achieving sustainable practices. By encouraging students to think critically and creatively, the workshop empowered them to become future leaders in sustainable development.