Urban Technology Symposium, jointly organised by MIT Hong Kong Innovation Node, MITdesignX, and MIT Morningside Academy of Design, was successfully held on 2023 Apr 23rd and 24th at MIT Hong Kong Innovation Node. The event featured insightful keynote speeches, engaging panel discussions, and networking activities that provided attendees with a unique opportunity to learn, connect, and collaborate.
Talks by MIT and Hong Kong speakers covered a wide spectrum of topics including innovation and education, design thinking, energy, sustainability, intelligent mobility, and more. The symposium was attended by a diverse group of professionals, including architects, urban planners, technology experts, researchers, entrepreneurs, and university students.
We believe that insights and ideas shared at the symposium will inspire attendees to continue their work towards creating human-centric, more sustainable, and smarter cities for all.
Opening by Sunnie S.Y. Lau & Gilad Rosenzweig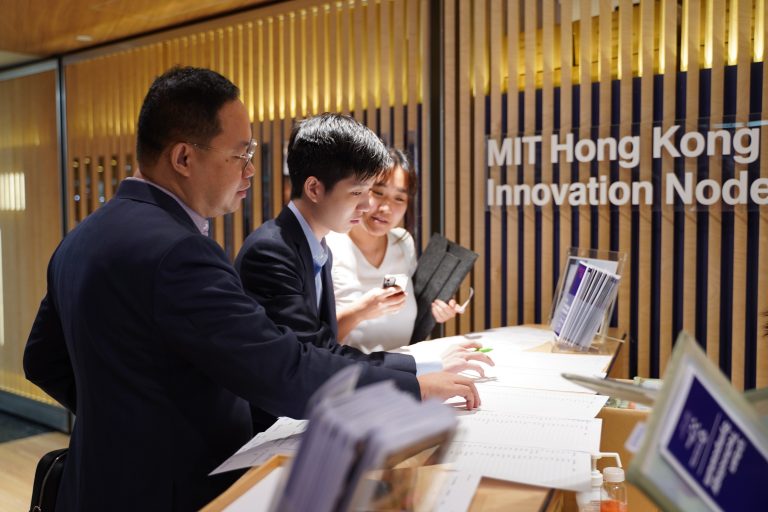 Reception at MIT Hong Kong Innovation Node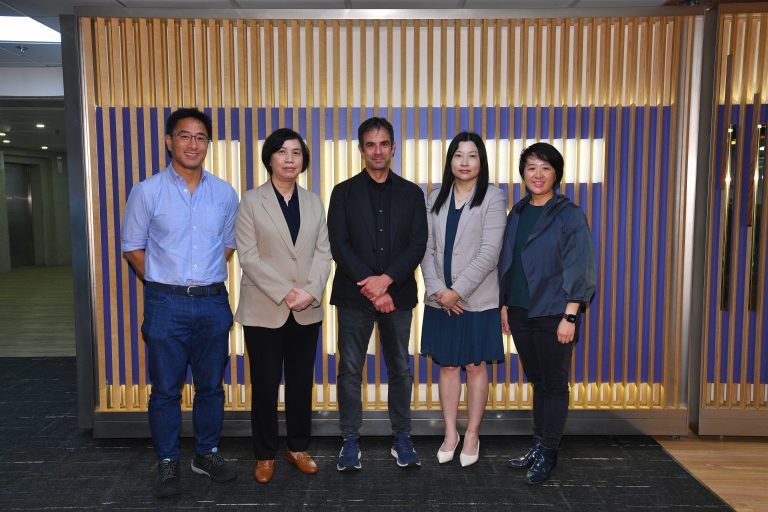 Group Photo of In-Person Speakers  (from Left to Right: Gene Soo, Ann Mak, Gilad Rosenzweig, Carmen Chu, and Sunnie S.Y. Lau) 
Part I - Designing for Technology at MIT
Day 1  09:00 AM -10:45 AM (GMT+8) | Day 2  09:00 AM – 10:30 AM (GMT+8)
Last year, MIT launched the Morningside Academy for Design (MAD) – an interdisciplinary hub for design education, research, and entrepreneurship.  MAD aims to educate future generations in design, foster design innovation, and encourage entrepreneurship to empower individual and collective problem-solving capacity around the globe.  Together with MAD, MITdesignX is leading innovation and entrepreneurship within the Academy and across MIT, teaching venture design and helping launch over 10 new startups each year. 
In addition, multiple programs at MIT incorporate design in their curriculum or ethos, including IDM and Tata. The Integrated Design and Management Program (IDM) combines a human-centred design approach with the systematic, analytical instruction of the world's best engineering and business schools to generate designers, engineers and business leaders ready to create high impact solutions. Whilst Tata applies designed solutions to the developing world.
Together, these programs approach technology at MIT with the power of design and the belief that design as a tool and a method can accelerate innovation and successfully engage people and cities in developing better futures. In Part I of the symposium we will hear from the directors of these programs and learn from their vision, approach, and success.
Day 1 09:15 AM - 10:00 AM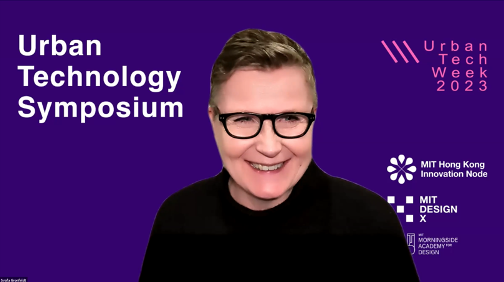 Faculty Director, MITdesignX; Professor of Practice, School of Architecture and Planning, MIT
DESIGNING THE X - from entrepreneurship to corporate innovation
Unable to meet users' real needs, up to 90% innovations have ultimately failed in the market. In this talk, Svafa explained how design mindset can be applied to create practical and impactful solutions in the complex world.    
Key takeaways:
Iterative process of rapid prototyping and tests through direct customer engagement will greatly improve success rate of innovations; 

Do not ask your user what the solution could be, but gain an insight into their expectations;

Designers should have "warm hearts and cool heads": understanding users' needs, and at the same time taking care of our planet and thinking about the impact of our actions. 
Day 1 10:00 AM - 10:45 AM
Director of MIT Integrated Design & Management (IDM), MIT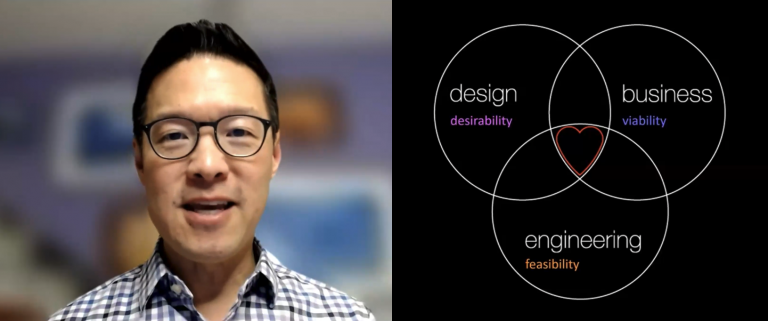 Integrating Design, Engineering, and Business
Tony introduced the Integrated Design and Management (IDM) program, a unique Master program combining design, engineering with business at MIT. While design dealt with the desirability of a product or feature, engineering actually thought about the feasibility and business pondered over the viability. Love of humanity and the planet, lying on the intersection of the above three, was essential to human-centred design. 
Key takeaways:
Design thinking is applicable to various aspects of modern life, such as elderly care, health monitoring and entertainment illustrated in student projects;         

Learning by doing, for example, students going through the design, manufacturing, and selling process in the IDM program;

Design education is highly valued at MIT, with cross-disciplinary design programs and courses available in almost every school.
Day 2 09:15 AM - 10:00 AM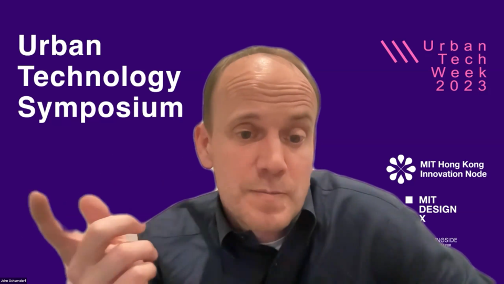 Founding Director, MIT Morningside Academy for Design; Class of 1942 Professor; Professor of Architecture; Professor of Civil and Environmental Engineering, MIT
Introducing the MIT Morningside Academy for Design
John highlights the necessity of collaborative design from the perspective of global environmental challenges. Taking carbon emission reduction as an example, he talked about how we can develop innovative solutions through design. Besides, John explained how and why design principles would be integrated across all disciplines in MIT.
Key takeaways:
Bring together interdisciplinary teammates to hold the triple bottom line (TBL): profit, people and planet;

Understand the whole supply chain through the lens of people and planet;

Personal actions are virtuous, industrial ones are heroic;

Technology alone will not help, leveraging the power of design across disciplines will get us to a better world.
Day 2 10:00 AM - 10:30 AM
Associate Director of Graduate Programs, MIT Energy Initiative

How the MIT Energy Initiative is accelerating the energy transition through education – overview and examples
Diane talked about what her team has done in the education part of the MIT Energy Initiative, MIT's hub for energy research, education, and outreach. By linking science, innovation, and policy, her team aims to accelerate the energy transition while minimising environmental impacts. Specifically, it involves launching research and industry projects, setting up minor degrees, online programs and courses, and incubating many start-ups. 
Key takeaways:
System thinking is critical for energy transition. MIT Energy Initiative therefore has been restructured and named as the Future Energy System Center; 

Six focus areas include electric power, transportation industry, energy storage, low carbon fuels, buildings, and carbon management;

Innovation network is strengthened by cross-department collaboration on campus and cross-sector collaboration off campus    
Part II - Designing for Technology in Hong Kong
Day 2  09:00 AM – 10:30 AM (GMT+8)
Since 2016, the MIT Hong Kong Innovation Node has been cultivating the unique capabilities of MIT students, increasing opportunities for innovation amongst students and faculty, and accelerating the path from idea to impact to help strengthen the region's innovation ecosystem, especially sustainable ideas related to the built environment.
In Part II, we will hear from local leaders in design and tech innovation in Hong Kong, learning what new developments are underway and what challenges need to be addressed.  We will conclude the day making connections between the MIT programs and their methodologies for design innovation, and their application to needs specific to Hong Kong SAR. 
Subsequent to the symposium, this summer the MIT Hong Kong Innovation Node and MITdesignX are collaborating on a venture design workshop within the Node's "Urban Technology Week" program. The workshop, for students from MIT and universities across Hong Kong SAR will foster an entrepreneurial mindset and develop problem solving skills for urban issues.
Day 2 10:30 AM - 11:00 AM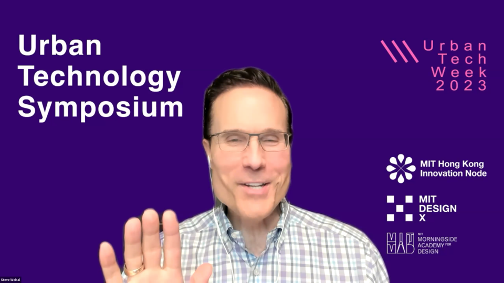 Industry Chair, Real Estate Transformation Lab, MIT ; Managing Partner, MET Fund II
Phygital: how start-ups are enabling the digital/physical convergence
"Phygital" was defined by Steve as the transformation integrating the physical and digital world. In this talk, he focused on "physital" in real estate and powerful tools invented by promising startups for such unprecedented transformation. 
Key takeaways:
Digital twin and AR/VR are two notable trends of "physital" in real estate;

Digital twin, a real-time digital representation of a building, neighbourhood or city, serves as a data integration platform for intelligent resource allocation; 

AR/VR can be used for improving navigation, creating a virtual advertising market, and assisting in construction and building maintenance.  
Day 2 11:15 AM - 12:00 PM
Executive Director, MITdesignX; Lecturer, Department of Architecture; Architect and Urban Planner
Transforming Ideas into Action
Gilad Rosenzweig, the executive director of MITdesignX, encouraged all innovators to take their great ideas into action. He showed how he collaborated with talents from all over the world and guided them through a venture design curriculum that empowered them to take actions and deploy new ideas. 
Key takeaways:
Impact-driven solutions are wanted to transform the way we live and make our world better;

Social enterprises rather than non-profits are more financial sustainable and create lasting social impacts; 

The methodology is composed of four stages: understand, solve, envision, and deploy.
Day 2 12:00 PM - 01:30 PM
Lunch + Urban Tech Week Info Session (for Students)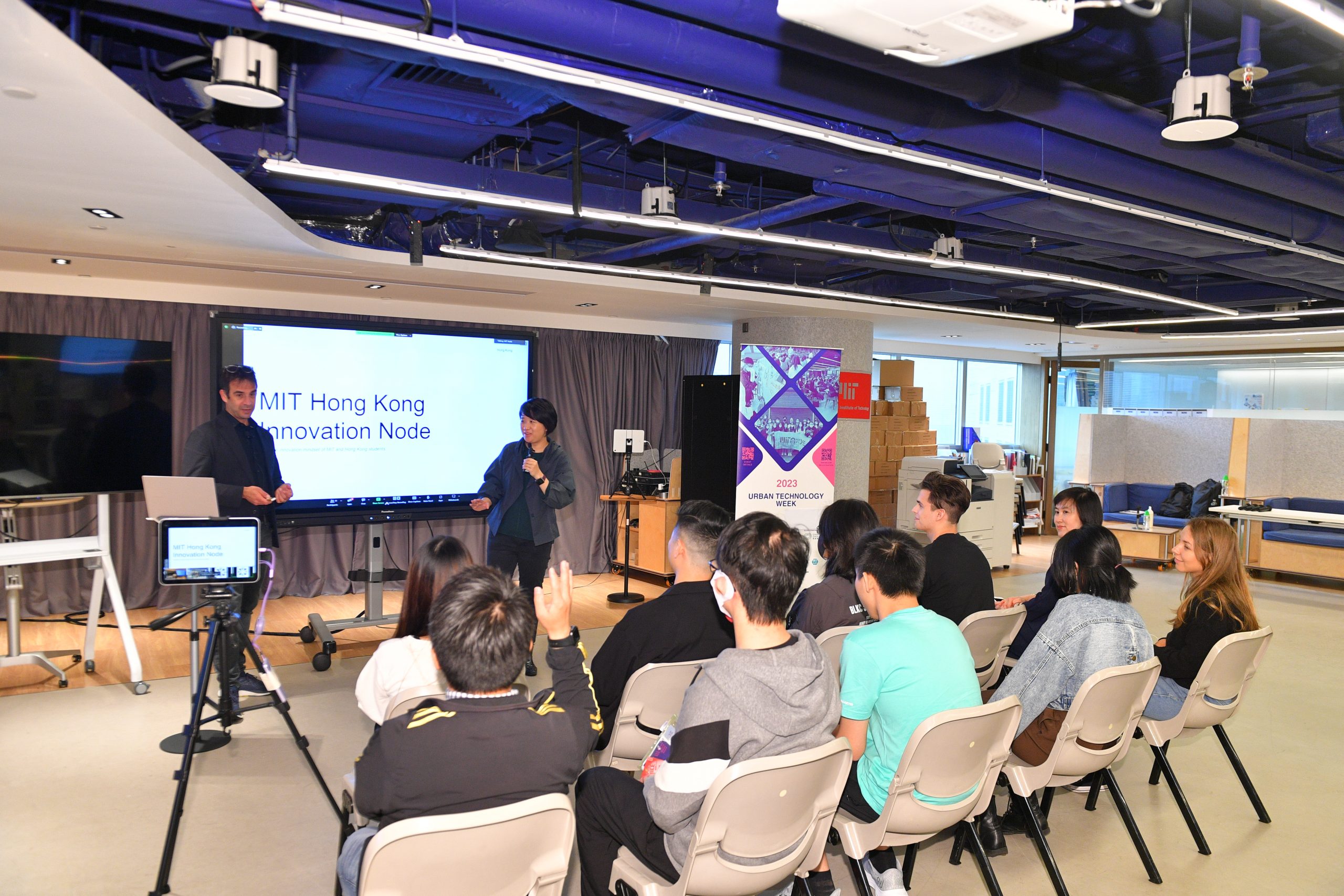 Day 2 01:30 PM - 02:00 PM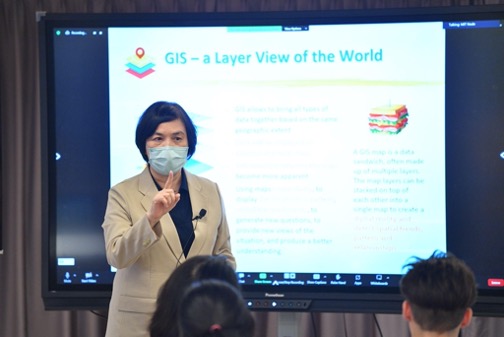 Manager, Geospatial Lab, HKSAR
Ann's talk focused on Common Spatial Data Infrastructure (CSDI) – the spatial data hub of Hong Kong and the use of Geographic Information System (GIS) as an effective tool for analysing spatial data. 
Key takeaways:
GIS is powerful for analysing and visualising spatial data;

The result of analysis can be used to inform decision making in a variety of fields, including urban planning, environmental management, and public health. 

CSDI plays a critical role in sharing and managing spatial data among different organisations in Hong Kong
Day 2 02:00 PM - 02:30 PM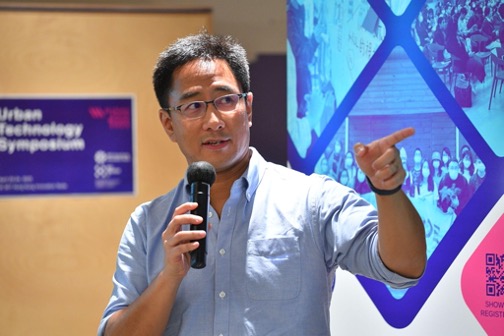 Head of Ecosystem – Global Innovation, MTR
The importance of design and product development in Hong Kong
Trained as a computer engineer, Gene has 12 years of startup experience in transportation, fashion, lifestyle, and gaming industries before embarking on corporate innovation at MTR. In this talk, Gene shared his personal story and valuable experience as an innovator and entrepreneur.
Key takeaways:
Aways start with asking what you are going to build and why

Go beyond the feature design and focus on users' feel and experience 

Do not be afraid to fail because you can learn from it
Day 2 02:30 PM - 03:00 PM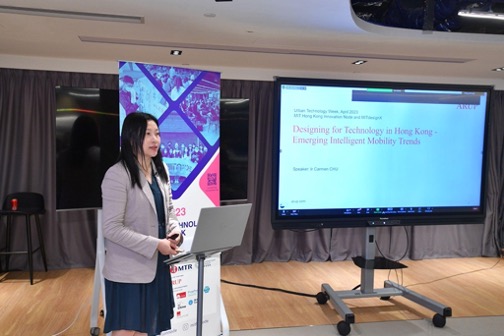 Director of Ove Arup & Partners Hong Kong Limited and the Intelligent Mobility Skills Network Leader for Arup East Asia
Designing for Technology in Hong Kong – Emerging Intelligent Mobility Trends
Carmen Chu, Director of Ove Arup & Partners Hong Kong Limited and the Intelligent Mobility Skills Network Leader for Arup East Asia, presented global trend in Intelligent Mobility (IM) under the A.C.E.S topics, i.e. Autonomous, Connected, Electrification and Shared Mobility, with a focus on how it has been deployed in Hong Kong.
Key takeaways:
Got familiar with the technological trend of IM

Learnt relevant government policies and initiatives driving the deployment of IM

Gained insights from successful use cases in HK
Day 2 03:00 PM - 03:45 PM
Panel Discussion Moderated by Barry Wilson & Sunnie S.Y. Lau