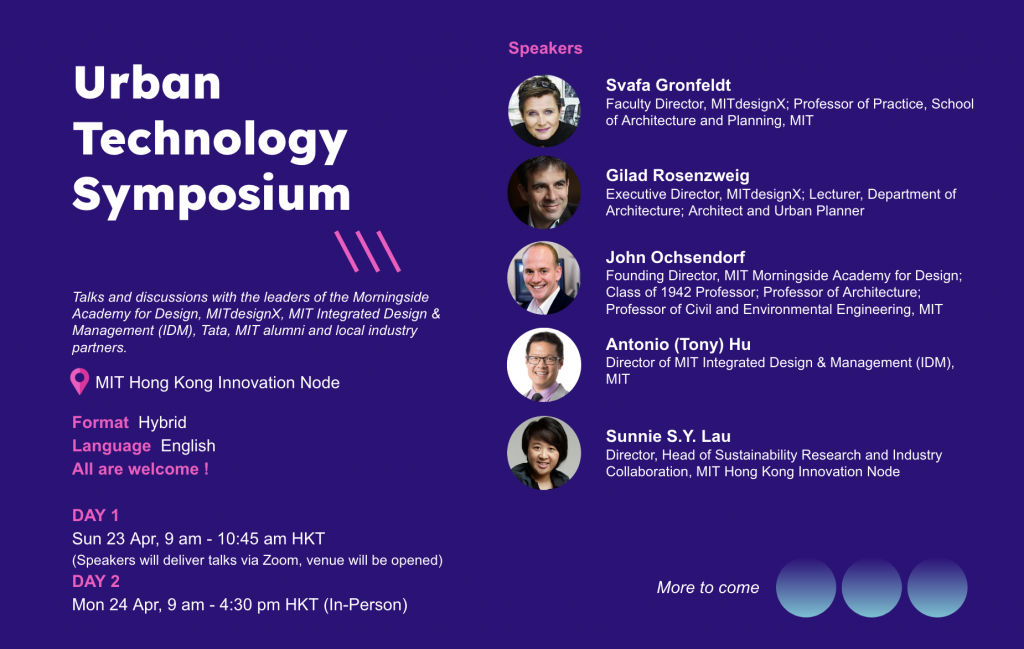 Part I - Designing for Technology at MIT
Day 1  09:00 AM -10:45 AM (GMT+8) | Day 2  09:00 AM – 10:30 AM (GMT+8)
Most of Part I speakers will deliver talks via Zoom, venue will be open.
Last year, MIT launched the Morningside Academy for Design (MAD) – an interdisciplinary hub for design education, research, and entrepreneurship.  MAD aims to educate future generations in design, foster design innovation, and encourage entrepreneurship to empower individual and collective problem-solving capacity around the globe.  Together with MAD, MITdesignX is leading innovation and entrepreneurship within the Academy and across MIT, teaching venture design and helping launch over 10 new startups each year. 
In addition, multiple programs at MIT incorporate design in their curriculum or ethos, including IDM and Tata. The Integrated Design and Management Program (IDM) combines a human-centred design approach with the systematic, analytical instruction of the world's best engineering and business schools to generate designers, engineers and business leaders ready to create high impact solutions. Whilst Tata applies designed solutions to the developing world.
Together, these programs approach technology at MIT with the power of design and the belief that design as a tool and a method can accelerate innovation and successfully engage people and cities in developing better futures. In Part I of the symposium we will hear from the directors of these programs and learn from their vision, approach, and success.
* Live Zoom, including Q&A
Part II - Designing for Technology in Hong Kong
Day 2  09:00 AM – 10:30 AM (GMT+8)
In person @ MIT Hong Kong Innovation Node
Since 2016, the MIT Hong Kong Innovation Node has been cultivating the unique capabilities of MIT students, increasing opportunities for innovation amongst students and faculty, and accelerating the path from idea to impact to help strengthen the region's innovation ecosystem, especially sustainable ideas related to the built environment.
In Part II, we will hear from local leaders in design and tech innovation in Hong Kong, learning what new developments are underway and what challenges need to be addressed.  We will conclude the day making connections between the MIT programs and their methodologies for design innovation, and their application to needs specific to Hong Kong SAR. 
Subsequent to the symposium, this summer the MIT Hong Kong Innovation Node and MITdesignX are collaborating on a venture design workshop within the Node's "Urban Technology Week" program. The workshop, for students from MIT and universities across Hong Kong SAR will foster an entrepreneurial mindset and develop problem solving skills for urban issues.
* Live Zoom, including Q&A