Sunnie Lau | MIT Hong Kong Innovation Node
IAP 2022
Sunnie Lau  | MIT Hong Kong Innovation Node
Photo courtesy of the MIT Hong Kong Innovation Node
In 2020-2021, MIT Hong Kong Innovation Node ran the Kowloon East Inclusive Innovation and Growth Project, which involved carrying out smart city activities to boost inclusion, innovation, and growth for the Hong Kong community. The exchange of ideas between MIT students, faculty, researchers, and alumni, in collaboration with the rest of the Hong Kong community, have brought new opportunities not only to boost efficiency of the city but also to create an inclusive city. Cities around the world have a constant thirst for progress in innovation, entrepreneurship, and smart city qualities, but in view of the current complex situations surrounding the endemic Covid-19, MIT Node calls for immediate attention to, and efforts to tackle challenges such as sustainable living in a densely populated city like Hong Kong. 
This year, MIT Node's Smart Cities Initiatives joined hands with MIT Media Lab City Science Group, led by Professor Kent Larson, to organize Beyond Smart Cities: A Self-Sustaining and Livable 10-min Neighborhood, a 13-day Independent Activities Period (IAP) workshop held on January 3-15, 2022.
Beyond Smart Cities: A Self-Sustaining & Livable 10-min Neighborhood
The cohort focused on Hong Kong Island South (including the Wong Chuk Hang, Aberdeen and Ap Lei Chau areas), which is home to attractive coastal vistas and rich cultural landmarks such as Ocean Park and Jumbo Floating Restaurant. Together with professionals such as local government officials, representatives of an energy company, property real estate developers and a public transport operator, architects and urban designers, MIT students worked with local university students and discussed emerging city challenges, ranging from sustainable development to placemaking, and from urban mobility to walkability. This hybridized "design workshop" has brought students from Hong Kong and MIT together to develop innovative and locally deployable strategies within the 10-minute neighborhood on Island South.
We were thrilled to have a bigger cohort this year, which consisted of a total of 35 MIT and Hong Kong students with diverse backgrounds in Architecture, City Planning, Urban Design, Creative Media, Mechanical Engineering and Computer Science. Twelve Undergraduate Student Ambassadors from local universities were paired virtually one-to-one with students. Local students helped the MIT students to better understand the local conditions in Island South in various aspects. Students with various background and skillsets worked in groups, and interacted closely with local decision-makers, built-environment professionals, and domain experts from both Hong Kong and MIT.
A reimagined locality 
As the name "A Self-Sustaining and Livable 10-minute Neighborhood" suggested, the workshop saw the student participants design a much more connected, safe and self-supportive urban system via hybridized technologies and more. For example, one team designed a distributed system of co-designed land bits (islands) in Island South's Sea, rebuilding the neglected cultural assets originated from the sea.
For the projects "Reconnecting Blue & Green", "Island of a Thousand Islands", "ImmerSEA-WEAVE and " Sampan", VR was merged with the physical world to redefine tourism on another dimension. The team tried to build social cohesion amongst visitors through this shared physical-metaverse experience, and also promote walkability and create a circular economy within the local community.
Two other teams, "Symbioponics" and the "Foodgo", explored the concept of a 10-minute local sustainable food-chain ecosystem that aims to reduce and recycle household food waste in Hong Kong via waste-to-biogas conversion and aquaponic farming. The student participants leveraged new farming technologies such as floating hydro- and aeroponics farms off the Wong Chuk Hang coast, to supply the local population with fresh vegetables. The project also suggests the floating farms as public transportations as part of the mobility solutions.
Shaping the New Sustainable 10 mins Neighborhood
Victor Kwong, Domain Expert in Corporate Sustainability of an energy company and one of the final judges, said: "I was glad to participate in this meaningful event organized by MIT Hong Kong Innovation Node… All (teams) had different innovative and creative ideas and perspectives about invigorating Island South. Some teams were more focused on sustainability living, urban farming, local food supply, etc… (All) were very good and practicable. It was really difficult to be a judge and decide who should win."
Elaine Wang, a second year master's student in the City Planning program at MIT, said: "Beyond Smart Cities was an incredible opportunity for me to use what I have learned from my studies at MIT to make an impact in Hong Kong. In the workshop, I worked closely with students at MIT and Hong Kong to develop new, innovative ideas for developing Hong Kong's Southern District. It was exciting to get direct feedback from domain experts and actually present our ideas in front of decision-makers in Hong Kong. I especially liked how we were encouraged to think 'beyond smart cities' and be totally creative with our solutions to Hong Kong's unique challenges."
Adolphus Lau, a HKU graduate student, has reflected on what his team had been able to explore via the "10-min neighborhood" concept for the Wong Chuk Hang neighborhood. He said: "Much beyond that, we also explored the integrated concept of advance management, supply chain, resource planning, architecture, urban planning, urban design and IoT. It shows that MIT Node is a very strong platform for us to explore this concept and take practical consideration and implementation into account. MIT Node has so many good resources and industry connections, such as the MTR and MIT Media Lab. That allowed us to understand the practical assumptions and considerations of the industry and the community, which we need to pay attention to when we design strategies for implementation. All in all, this was a really excellent and fruitful experience for all of us in the team."
At the final showcase, Steven Chan, Design Manager (Investment Property), MTR Corporation Limited, addressed to the students. In his concluding remark, he said: "It was something special to meet with all these energetic young talents from different backgrounds and with so many brilliant ideas. The program has been very diverse and vibrant, and provides a lot of insight and innovative ideas for students and participants like me. I think it will continue to succeed with more and more interactions and sharing with local communities and professionals."

MIT IAP 2022 Beyond Smart Cities Cohort Photo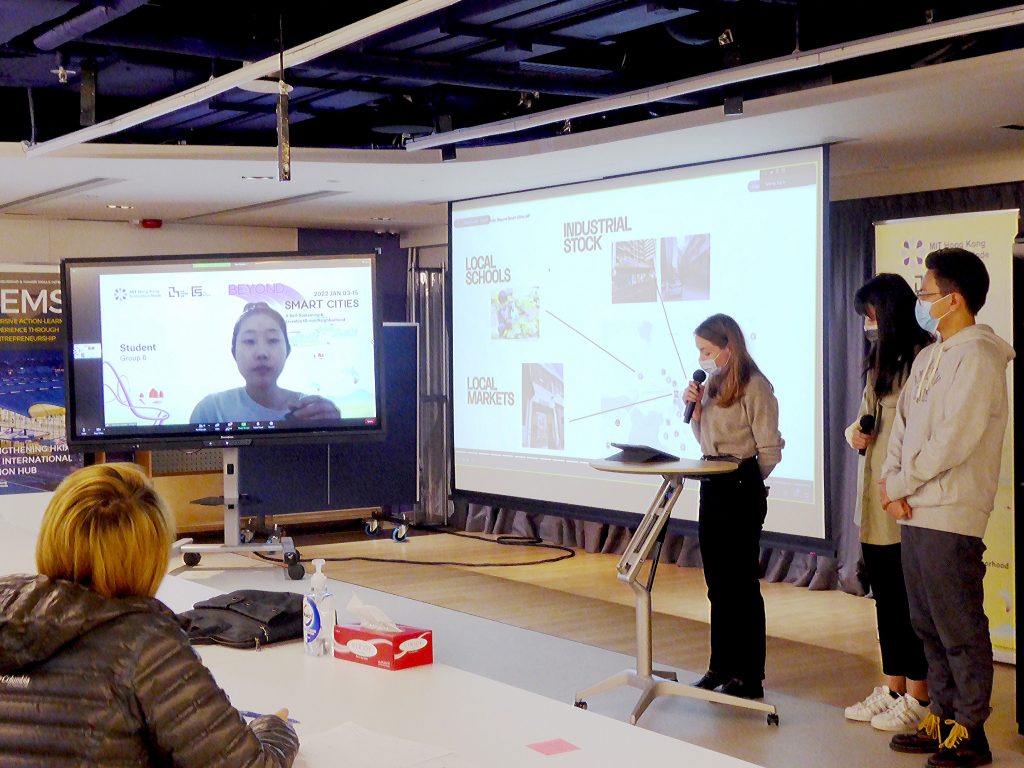 Hybrid Presentation by Team "FoodGo" on Showcase Day
(Left to Right: Tiasa Kim from MIT, Reka Tundokova from HKU, Yihan Wu from CUHK, Yusheng Zhang from CUHK)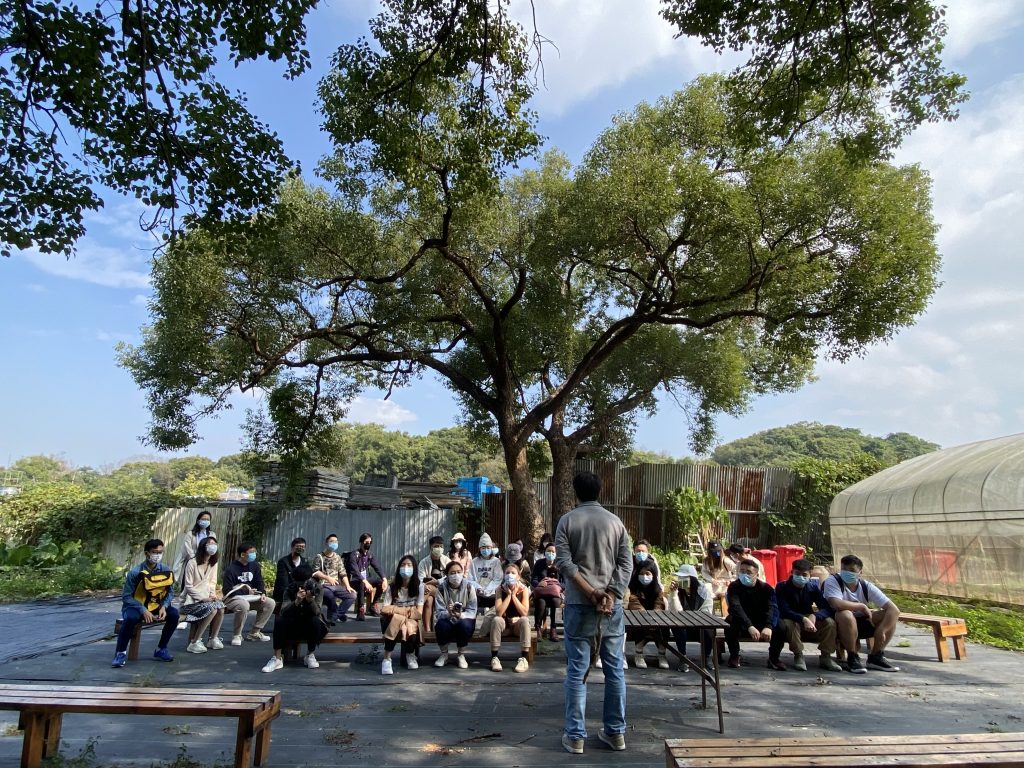 Visit to G-STEAM Education Centre at Sheung Shui, to learn about sustainable farming practice and food waste management, Hong Kong Hong Kong
Related Topics
Sustainability

Smart City