Hong Kong secondary school students collaborating with industry experts to tackle industry challenges of Environment, Social and Governance (ESG)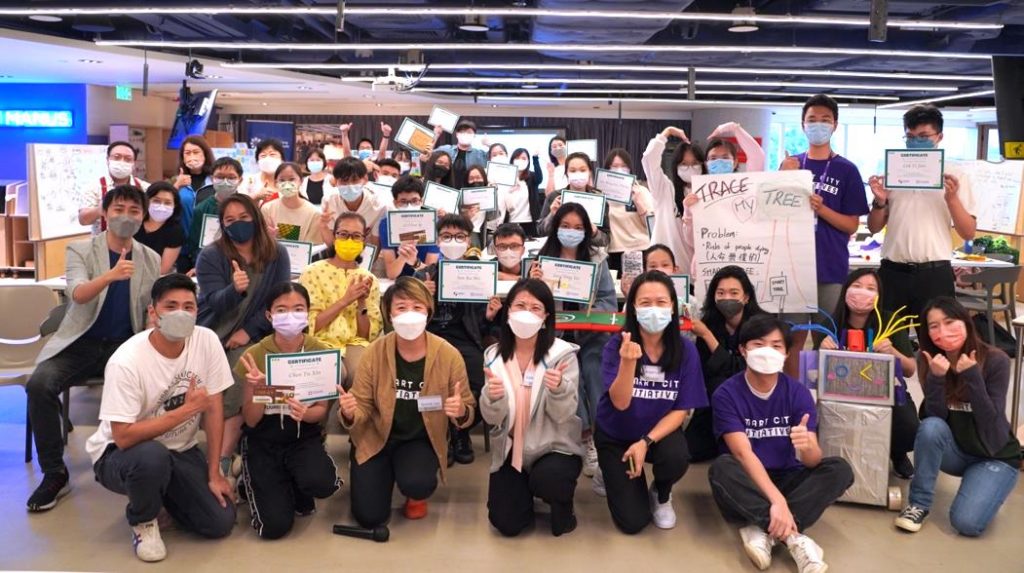 30 secondary school students participated in a leadership workshop themed on ESG, formed teams to tackle industry challenges and presented innovative solutions.
Designed to cultivate mindset on sustainable living, MIT Hong Kong Innovation Node partnered with the Hong Kong Macau International Exchange Foundation (HKMIEF) hosted a two-day workshop, entitled "Design for a Sustainable Future Workshop" for 30 secondary school students in Hong Kong on August 17 & 18, 2022 at MIT Node. HKMIEF engaged its alumni: Doris Leung of Diamond Cab, Norman Chan of Jump Intelligence Group, and Christine Fung of InspiringHK Sports Foundation to join as domain experts. 
Environment, Social and Governance 
The subject of sustainability and how to live a sustainable life aroused enormous discussion worldwide. With the goal of raising awareness of ESG and Carbon Net Zero, this workshop introduced design thinking methodology, induced industry challenges, provoked ideas and solutions at the workshop. 
Tackle Industry Challenges 
The 2-day workshop covered a broad range of sustainability topics: from solid waste, circular design, carbon emissions, green building, to climate actions, etc. Students were guided through design thinking methodology to tackle real-world problems and develop people-centric solutions in relevance of ESG. Industry partners introduced their business, provided insights of their industry, briefed their challenges and helped students to reimagine customer's or industry needs. 
Active Engagement and Beneficial Learning Experience 
Students placed in teams with diverse skill sets and background gained direct exposure from industry experts. They were able to understand various industry challenges, go through intensive discussion, and get hands-on exercises to explore creative solutions. Under the guidance of facilitators and staff at MIT Node, six teams successfully presented their innovative ideas on Disability Care, Environmental Sustainability and Youth Enrichment to industry partners.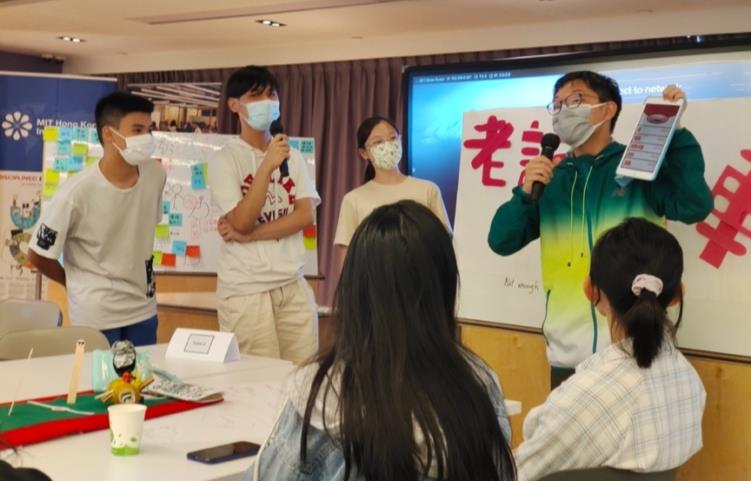 老記 Call 車
won the Best Prototyping Award. The team identified the types of users and proposed a solution from users' point of view, A taxi reservation platform for caregivers of elderly or disabled people was introduced.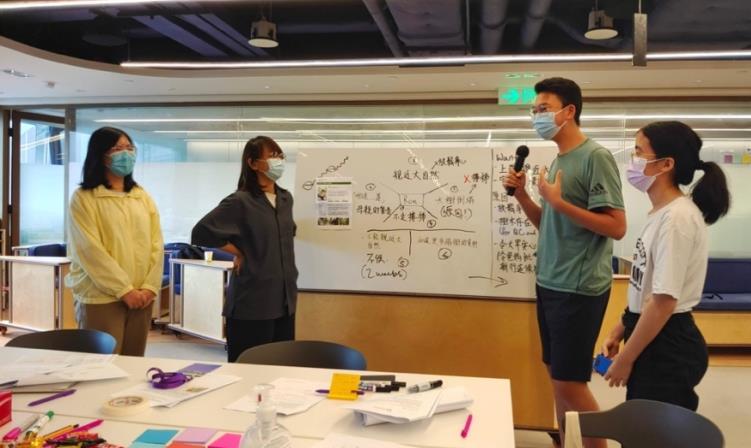 Trace the Tree
is the Innovation Award winning team. They highly focused on the main pain point, proposed feasible and relevant solution. By analyzing the problem, the team suggested the use of kinetic energy to replace battery on tree falling detection.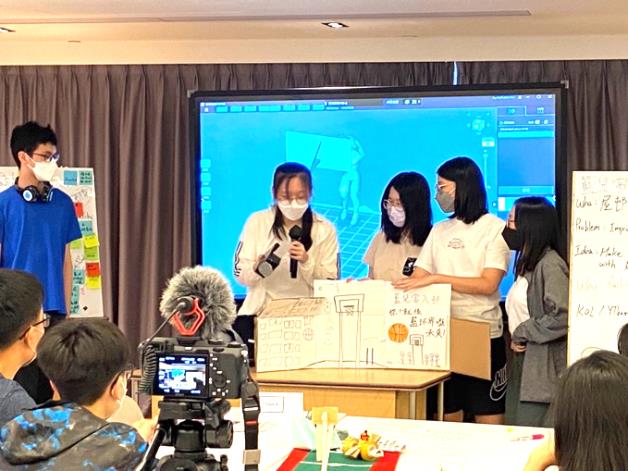 籃兒當入邨
The team aims to raise the youth awareness of estate-based basketball program by introducing latest technology NFT and social media promotion, as well as helping the youth to improve their photography skills.
WOO 龜
Fascinated by the concept of sustainable energy, the team designed a multifunctional wheelchair for elderly and disabled people. And demonstrated their cardboard prototyping capability.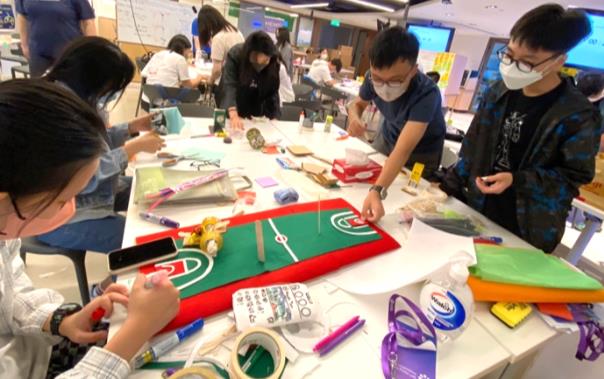 青出於籃
The team targets to help deprived teens with an aspiration of becoming a filmmaker, suggested a holistic plan from crowdfunding, production, and promotion. And emphasised the engagement between youngsters of all abilities to foster an inclusive community.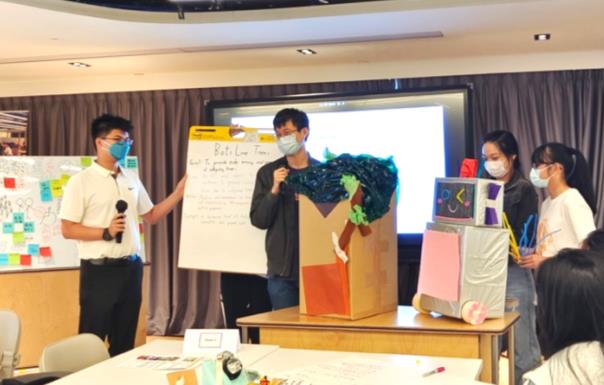 Robots Love Tree
A self-navigated robot was designed to take charge of the regular maintenance and risk detection of trees in urban area by using computer vision and AI. Risks will be reported timely to the central controlling platform for further action.
Students were deeply engaged in the entire learning experience, shared their throughs with the class and provided constructive feedbacks for teams to iterate the solutions. Best Prototype and Innovation Award presented to two teams with comprehensive problem-solution-focused mind set were the finale of the 2-day workshop. 
Special Thanks to Industry Partners / HKMIEF Alumni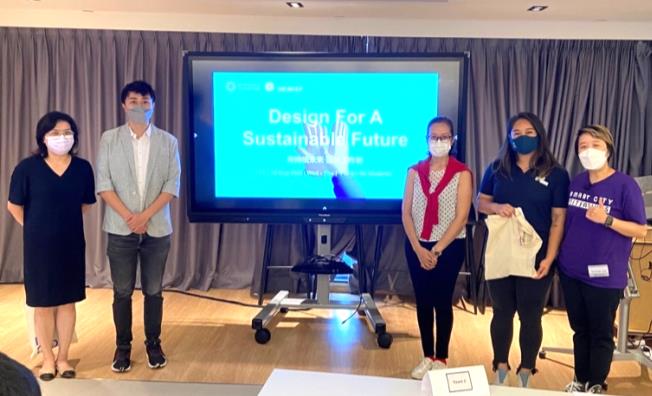 (From left to right)
Ann Tsang (Cultural Specialist), Norman Chan (Head of ICT and Smart City Development, Jump Intelligence Group), Doris Leung (Founder & CEO, Diamond Cab), Christine Fung (Senior Marketing and Communication Manager, InspiringHK Sports Foundation), Sunnie Lau (Director of Smart City and Industry Collaboration, MIT Node)