Activating technology for urban life with a virtual site visit to Hong Kong in collaboration with the Department of Urban Studies and Planning.
MIT Hong Kong Innovation Node

Publication Date on MIT News
:
You could find original news on MIT News
---
The year 2020 was undoubtedly a challenge for everyone. The pandemic generated vast negative impacts on the world on a physical, psychological, and emotional level: mobility was restricted; socialization was limited; economic and industrial progress were put on hold. Many industries and small independent business have suffered, and academia and research have also experienced many difficulties. The education of future generations may have transitioned online, but it limited in-person learning experiences and social growth.
On the collegiate level, first-year students were barred from anticipated campus learning and research, while seniors faced tremendous anxiety over the lack of face-to-face consultations and the uncertainty of their graduation. To meet the increasing desire to reconnect, the MIT Hong Kong Innovation Node took on a new role: to expand the MIT Global Classroom initiative and breach the boundaries of learning via the collaboration of colleagues, students, and alumni across the globe.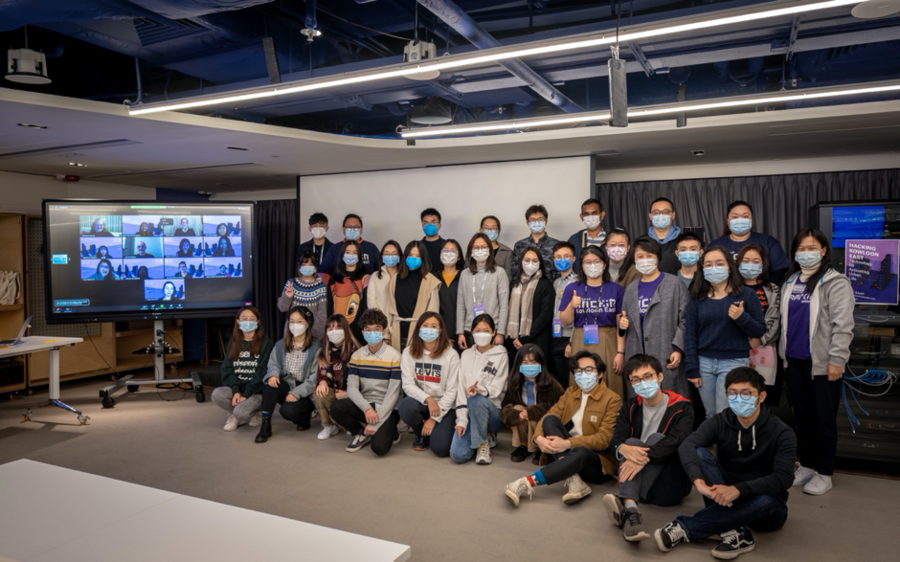 Credits
:
Image courtesy of the MIT Hong Kong Innovation Node.
Since its founding in 2016, the MIT Hong Kong Innovation Node has focused on cultivating the innovative and entrepreneurial capabilities of MIT students and Hong Kong university students. The collaboration with MIT alumni and students has contributed to the establishment of numerous landing programs around the globe. This accomplishment is best demonstrated by the success of the MIT Entrepreneurship and Maker Skills Integrator (MEMSI) and the MIT Entrepreneurship and FinTech Integrator (MEFTI).
In 2020, the node executed the Kowloon East Inclusive Innovation and Growth Project, which carried out smart city activities that would boost inclusion, innovation, and growth for the Hong Kong communities. The exchange of ideas between MIT students, faculty, researchers, and alumni, in collaboration with the rest of the Hong Kong community, revealed opportunities beyond Kowloon East in the neighboring cities in Pearl River Delta region. Some of these opportunities involved the production of internships and public engagement opportunities.
"Hacking" Kowloon East: activating technology for urban life
The MIT Hong Kong Innovation Node welcomed 2021 with an Independent Activities Period virtual site visit to Hong Kong in collaboration with the Department of Urban Studies and Planning. The two-week "hacking" series offered by Associate Professor Brent Ryan, head of the City Design and Development Group, altered the concept of smart cities by exploring how the current initiative in Kowloon East can be better leveraged by emerging digital technologies to connect residents to each other and enhance economic opportunities.
As a paradigm of high-density urbanism and the center of a wide variety of global and local challenges, Hong Kong provides an opportunity to rethink how physical spaces can be integrated with digital technologies for better synergy. "Hacking" series participants took advantage of this fact. Equal numbers of undergraduate student ambassadors were recruited from local universities, and paired with MIT students and Hong Kong-MIT graduate students who were based in Boston. Some of the project ideas focused on how to retail revitalization, how to promote health care and environment, and how to establish an overall human-centered urban design.
"Although I couldn't travel physically, special lectures from the domain experts and the student pairing system with HK student ambassadors helped me discover a specific problem I wanted to tackle," says Younjae Oh, a second-year student of the master of science in architecture studies (design) program at MIT. She went on to state that the series "inspired creativity within the team and led us to make more insightful, considered decisions upon cultural awareness. What I have found valuable in this workshop is the extremity of engagement with the cross-cultural team."
This blend of "Hacking" contributors collaborated in an open-ended structure where they proposed and developed reality-based projects to promote "smart, equitable urbanism" in the Kowloon East (Kwun Tong) neighborhood of Hong Kong. Queenie Kwan Li, a first-year master's student in the science in architecture studies (design) program at MIT, describes aspects of the program, mentioning, "Direct consultations with local and international domain experts lined up by the MIT Innovation Node immensely deepened my understanding of my home city's development." She adds, "It also gifted me a unique opportunity to relate my ongoing training at MIT for a potential impact in Hong Kong."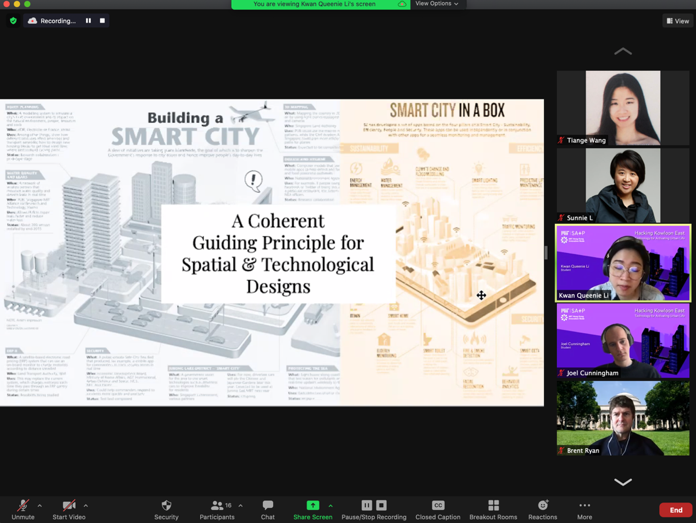 Credits
:
Image courtesy of the MIT Hong Kong Innovation Node.
Global classroom-in-action
Despite its progress in innovation, entrepreneurship, and smart city restructuring in this collaboration with the node, the pandemic highlighted an ongoing challenge of how the School of Architecture and Planning can offer a hybrid learning experience for a professional audience with mentorships and apprenticeships.
Architecture and urban design training emphasize the design studio culture of collective learning, which is vastly different from solo learning at home. This learning usually begins with a physical site visit: surveys, interviews, meeting and interacting with locals to obtain firsthand engagement experience. Under the experimentation of a hybrid format, the teaching team has to curate and piece fragments together to imitate refreshing local perspectives through tailored exercises using online interactions and team collaborations.
Although traveling experiences are always the best and most-direct ways to understand the benefits and deficits of an area, to appreciate the culture and customs, and to pinpoint challenges the locals face, it is easy to forget that people are the core, the identity of a place, when learning solely online. To make up for that deficit, the "Hacking" series invited the physical attendance of local and international members of the MIT alumni community with relevant domain expertise.
Sean Kwok '01 says, "MIT graduates spanning five decades volunteered to teach and guide current students. In return, this workshop gave us, former MIT students, the rare opportunity to participate in the MIT academic life again, learn from our colleagues, and give back to the school at the same time."
Some of the domain expertise included those with backgrounds in architecture, urban design and planning, real estate, mobility and transportation, public housing, workforce development, city science and urban analytics, art administration, and engineering. In fact, a total of 23 domain experts, local stakeholders, and eight mentors from various disciplines were physically involved in the program at the node's headquarters in Hong Kong.
Throughout the series, they shared their knowledge and experiences in a hybridized format so that non-Hong Kong-based members could also participate. Joel Austin Cunningham, a first-year master's student in the science in architecture studies (design) program at MIT, commends the "Hacking" series, stressing that it "addressed the unprecedented constraints of the coronavirus with an innovative educational solution … As architecture and urban planning students, we rely heavily upon active engagements with a project's site, something which has been significantly constrained this academic year. The IAP workshop responded to this issue, through a multi-institutional collaboration which compensated for our inability to travel through active engagements with an array of local stakeholders and collaborators based in the city."
Learning is a feedback loop — part of it is learned from the reconstruction of a previous experience, and part of it is constructed by us as we develop the learning experience together and assimilate new information, insights, and ideas from one another. As part of such interconnectedness, a human-centric approach, communication skills, cultural and moral values involve the inclusive diversity and empathy of everyone.