We take a look at how vertically integrated textile and apparel manufacturer, Esquel Group, led by Chairman and MIT alumna, Marjorie Yang, is innovating through their people, production and practices.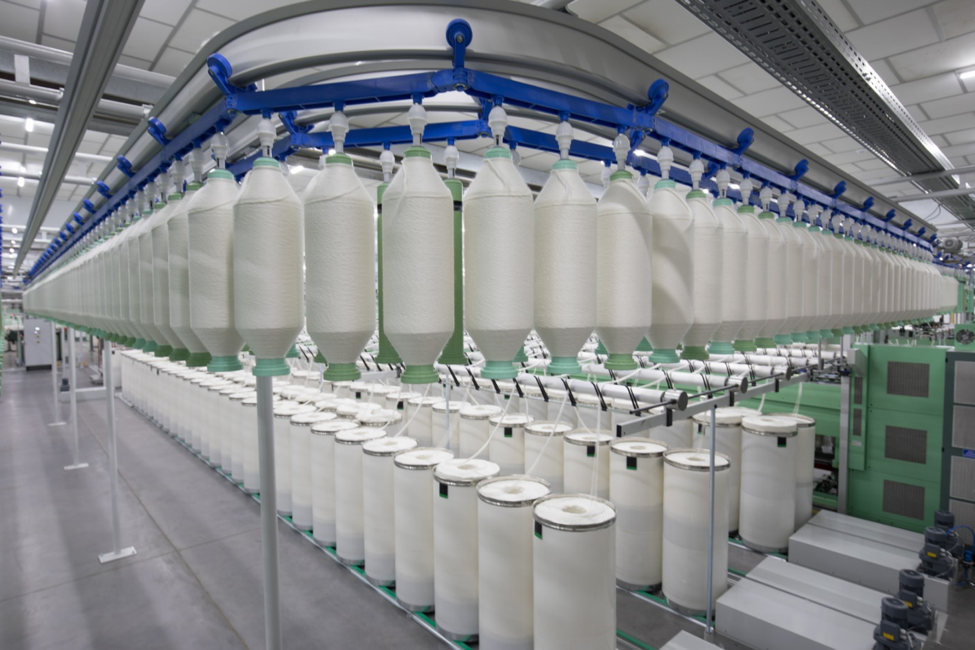 MIT Hong Kong Innovation Node
April 30, 2018
Innovation at the organizational level is critical for corporate sustainability, where the balance of strategic growth, talent development and environmental best practices are optimized. Executives at Esquel Group spoke with MIT Hong Kong Innovation Node on nurturing innovation through corporate values and mens et manus practices at and beyond the company.

Q. What does Esquel do and how has the business evolved over the years?
A. Founded in 1978, Esquel Group is a global textile and apparel manufacturer with a vertically integrated supply chain that straddles from cotton farming to retailing.  With 57,000 employees across the globe and state-of-the-art production facilities in China, Malaysia, Mauritius, Sri Lanka and Vietnam, Esquel manufactures over 100 million pieces of garments annually for leading brands including Ralph Lauren, Tommy Hilfiger, Hugo Boss, Patagonia and Muji.  Esquel also distributes through our retail brands PYE and Determinant.  Our annual revenue is around USD 1.3 Billion.
Long an advocate in innovation, environmental protection and corporate social responsibility, Esquel aspires to make a difference in the textile and apparel industry and contribute to the well-being of a wider community.  Over the years, textile and apparel manufacturers face various challenges—fragile ecosystems, inefficiencies in the supply chain and rising labor costs.  However, these challenges also motivate Esquel to pursue innovations in our production technologies and processes, as well as to reduce energy and water usage. Esquel's "5E" corporate values – Ethics, Environment, Excellence, Exploration and Education – has driven the evolution of the business to be vertically integrated and increasingly technology-driven and knowledge-based.
Q. How is MIT's mens et manus philosophy incorporated into the company?
A. With five MIT alumni among us (and one colleague currently on MIT campus studying for a Master's degree in Supply Chain), the mens et manus philosophy is further propagated via the corporate values throughout the company.  Esquel has an innovative corporate culture and we hold various kinds of trainings for our colleagues both internally and through collaborations with external organizations and higher institutes such as MIT.  An example is a project called "You can code" by teaching computational thinking and application development on the App Inventor platform, to encourage our colleagues to learn more about and embrace technologies, and empower them by teaching them how they can master technologies to help with their daily work or express their creativity.
Esquel's factories around the world are increasingly making use of automation in work processes such as automated guided vehicles for speedy transportation of apparel parts within shop floor, and advanced customized machinery to speed up production process and improve product quality.  We see the adoption of automation as an enabler for our workers to upgrade from manual labors to technicians and have quality employment.  It helps relieve workers of repetitive, labor-intensive, and physically straining work, and improves the quality and efficiency of production and hence income.  For example, at Esquel's new integrated production line (we call it Integrated Line as the production line requires a close integration of automation and skilled workers or technicians), our skilled workers leverage the support of robotic arms, machine vision technology and self-developed automation modules to improve production consistency in quality as well as production efficiency.  Another example would be our highly-automated new spinning mill launched in July 2017 in Changji, Xinjiang.  The mill only requires 45 staff to control the 30,000 spindles, whereas such a large mill would usually require around 150workers to manage it if operated in a traditional way.  Setting up that spinning mill requires much more than just advanced machinery from Europe, but also a deep and holistic understanding of various materials, production processes and requirements, and the ability to integrates different systems as we are vertically integrated and spinning is just at the beginning of our long supply chain.
Q. How does the company use innovation to create sustainable growth in a competitive environment?
A. As of the end of 2017, Esquel has cumulatively filed around 1,300 technical patent applications, of which over 820 have been granted.  We hold over 100 patents in automation, many of which are for machine adaptations and materials handling.
In terms of water conservation, we have reduced unit water consumption by 67% from 2005 to 2017.  Furthermore, to create a color dying breakthrough in the textile industry, our R&D team has conducted research on dyes that could reduce water consumption, and collaborated on research on waterless dyes and other processes that can further reduce water use and improve fixation efficiency.  Over the same 12-year period, we have also improved our processes and reduced unit energy consumption by 49%.
Esquel aims to be more than a shirt-maker.  To us, caring about sustainability is not about compliance nor for promotional purposes.  Instead, it reflects our corporate vision and commitment, while at the same time it acts to enhance our competitiveness.  We become a true agent of change, providing quality employment, improving the livelihood of the communities in which we operate and achieving sustainable organizational development.
To find out more about how Esquel is "Making a Difference" in the world, please watch their corporate video.