Growing MIT presence in the region energizes students, faculty, and alumni.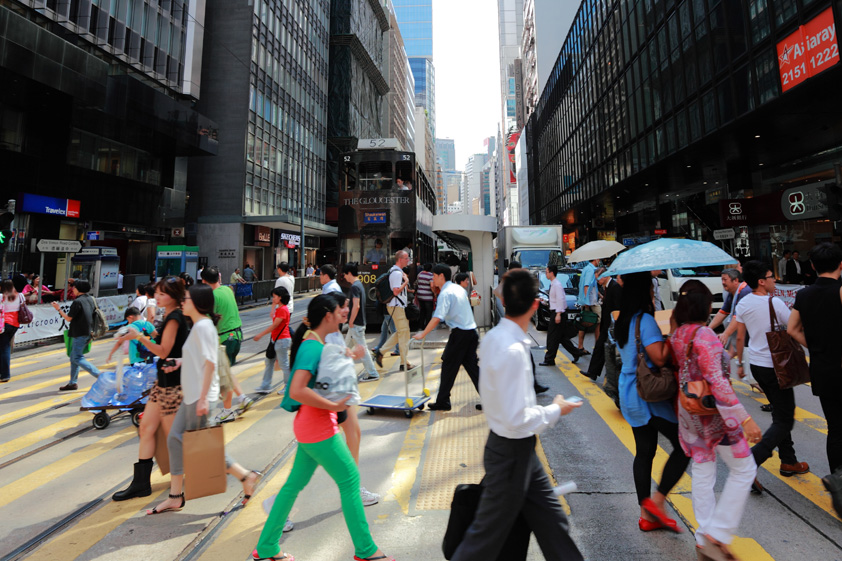 Meg Murphy | School of Engineering
December 13, 2016
It's nearly 8,000 miles from Cambridge, Massachusetts, to Hong Kong, but the ties between MIT and this vibrant city are strong.
"The alumni scene in Hong Kong is thriving," says Julian Lee '97, former president of the MIT Club of Hong Kong, who estimates about 600 alumni live in the region. "We are very excited about the growing MIT presence here. It is re-energizing innovation."
That's saying something considering the region, and its startup scene, is already off-the-charts energetic. There are currently 1,600 startups in Hong Kong, a 50 percent increase since 2014. Innovative designs are often developed in Hong Kong and manufactured in China's Pearl River Delta, in Shenzhen, which has transformed since 1980 from a fishing village of 30,000 to a city of nearly 11 million.
With that kind of draw, it only makes sense that the next MIT Better World Campaign event is coming to the region on Dec. 14. The event also comes on the heels of the recent launch of CoolThink@JC, an effort, powered by two MIT-developed technologies, Scratch and MIT App Inventor, to train local primary teachers and students throughout Hong Kong in computational thinking.
The vibrancy of the region played a decisive role in MIT's decision, in keeping with the mission of the MIT Innovation Initiative, to announce an Innovation Node in Hong Kong last year. In June, during its inaugural program, Kickstart, alumni spent several evenings listening to students, freshly arrived from Cambridge, develop ideas. The recurring program, which resembles a one-week hackathon, involves MIT students teaming with peers from Hong Kong universities to build rapid prototypes. The Node's newest program, the MIT Entrepreneurship and Maker Skills Integrator, will launch in January with content provided by the Martin Trust Center for MIT Entrepreneurship and Project Manus, and more alumni mentors signed on.
For alumni, the distinctive MIT energy — the flash of ideas, the familiar meeting of minds — is more than welcome, says Lee. "We enjoy having a direct relationship with students. It reminds us of what we went through as kids at MIT," he says. "We are able to to briefly live through that again with them. They are doing the same thing in a new era."
Fast and faster
Nathan Monroe '13, a graduate student in electrical engineering, jumped at the opportunity to take part in Kickstart. "Hong Kong is a hotbed for hardware system startups," he says. His team created Interface, an interactive name badge that stores select personal information, scans the area for matches, and alerts wearers. "Alumni gave us a lot of good advice," he says, praising the networking opportunities.
Exposure to the size and scale of manufacturing in the region is invaluable, he says. "Too many hardware system startups fail because it is massively difficult to go from a single prototype to hundreds of thousands," he says. "You don't learn that in school. You learn it on the ground."
That rings true for recent mechanical engineering graduate Victoria Tam, whose Kickstart team created Steps, a wearable sensor for children with autism. She was intrigued by the speed at which workers put together parts along the conveyer belt in a Shenzhen factory.
"We hear about all these things in class but to see it happening in front of you makes such a big difference. It took our MIT knowledge to the next level," she says, adding: "Everything moves a lot faster in China."
Being in Hong Kong was eye-opening for students, says Node faculty director Charlie Sodini, the Clarence J. LeBel Professor of Electrical Engineering at MIT. "This is like a 'wow experience' for some of the MIT students," he says. "The energy of the program reflects the energy of the city and the energy of the students." Alumni, he says, focus that energy beautifully, describing MIT as "batting one thousand" when it comes to engaging them.
Making it happen
Many alumni describe the lively exchanges with students as refreshing. "As ever, there is an immense amount of intelligence and technical skills among the student community," says Alexander Chan MBA '04, who works in venture capital in Hong Kong. He says providing input about general management and product-market fit — "essentially whether people will buy their product" — was rewarding. "[The students] are learning how to bring a product to life."
"All of the students are full of ideas," says Louis Chong '86 SM '88, who works in the software technology field. "They can quickly converge those into viable products and prototype them in a very short time." He says he was "happy to know them," listen to their ideas, and provide technical and business feedback.
Davon Hui, a student participant from Hong Kong, says he likes MIT students and their "idiosyncratic talents." He says they put "100 percent effort" into ideas, which in the case of his team, involved the design of a smart cap for toothbrushes. "We are pushing each other to the limit," he says.
Students in Cambridge and Hong Kong are "pumped" about the Node's plan to have in place soon a 5,000 square-foot maker and collaboration space, equipped with leading-edge technology and connected digitally to the MIT campus. "Complementary makerspaces at MIT and in Hong Kong — so we can design something here, 3-D print it, send the files over, and they have the identical equipment and can make the exact same thing — will be amazing," says Monroe, of the Interface team. "The benefits for collaboration are huge."
Meanwhile, MIT alumni have kept up and expanded their relationships with current students, offering mentoring and visits to their organizations apart from the program. Chong, who now serves as president of the MIT Club of Hong Kong, says the club is already planning more activities down the road. "We like to see MIT and Hong Kong students connect. It gets them to appreciate the creativity and the culture of each other. It also gives MIT students an opportunity to learn how Hong Kong and Shenzhen can play a role in their future plans."
Read this article on MIT News.