Students from MIT and Hong Kong collaborate to bring their entrepreneurial ideas to fruition during MIT Kickstart.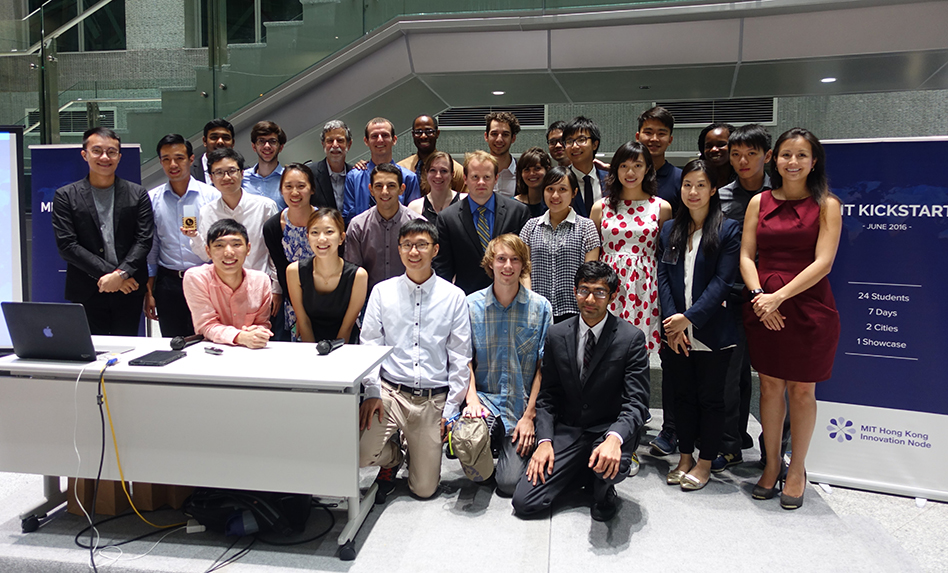 Terri Park | MIT Innovation Initiative
August 8, 2016

From a smart nutrition device for breastfeeding mothers to a tracking system for educators to help monitor the learning progress of autistic children, students from MIT recently worked alongside students in Hong Kong to produce a range of unique "Internet of Things" (IoT) solutions that address real-world problems.
Their innovative ideas were the result of MIT Kickstart, a hardware system accelerator program that brought together 24 aspiring university entrepreneurs from MIT and Hong Kong earlier this summer for an intense week of ideating, validating, hacking, iterating and innovating. The immersive program challenged students to bring their ideas to impact by forming international teams, building rapid prototypes and pitching their projects. Workshops led by industry experts, coaching from alumni mentors, and visits to local startups for a look at the region's innovation ecosystem helped the student teams through the process and gain a truly distinct entrepreneurial experience.
"I learned a huge amount on this trip," said rising senior Weston Braun, an electrical engineering and computer science major. "I discovered that when creating a startup, the business side is just as important as the technology. Even though that's not what I wanted to hear as an engineer, it's good to know going forward and something I think many people learn much further on in their ventures."
While the majority of the program was based in Hong Kong, students had the opportunity to take a day trip to Shenzhen to tour manufacturing facilities and explore the city's thriving startup scene. For recent mechanical engineering graduate Victoria Tam '16, witnessing the immense scale of manufacturing in Shenzhen in person was eye-opening. "Having learned about large-scale manufacturing processes in class, I could only imagine what it was like in real life. The experience of visiting the plants really drove home just how much it takes to bring a product from design to production," said Tam.
MIT Kickstart culminated into a showcase where five student teams pitched their ideas and demonstrated their prototypes to a judging panel and an audience of over 100 industry professionals, alumni, and partners on the last day of the program. Teams were evaluated on the quality of their prototype, pitch, customer validation, design, and business model. Seasoned entrepreneur and judge Tak Lo commended the hard work of the students and that "the qualities of ideas were top across the board," making the decision of choosing a winning team even more difficult for the panel. Ultimately, the judges awarded the top prize to team InterFace for their concept of a smart lanyard designed to encourage meaningful social interactions for conference attendees.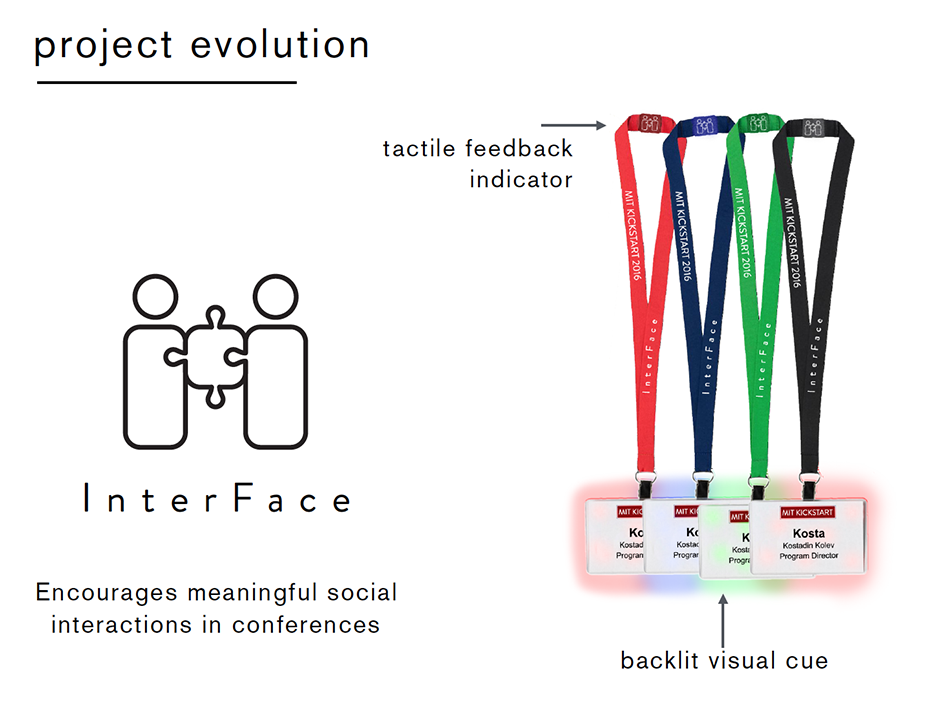 Upon completion of the program, many MIT students reflected that participating in Kickstart not only allowed them to step outside of the classroom and learn by doing, it offered them the opportunity to experience another country and its culture and people firsthand. Students cited getting to know others in the MIT community and collaborating with students in Hong Kong as a key highlight of their trip. Nathan Monroe, a master's candidate in electrical engineering and computer science, shared that "the other 23 participants were fantastic. I was blown away by people's ambition, creativity, drive, passion and intelligence." Added Tam, "The opportunity to work with Hong Kong students was probably the most unique part of this experience. We didn't know one other before the program started, but when it got to crunch time, it was clear that we shared the drive and desire to make something special happen." The value of international teamwork was echoed by Davon Hui, a recent industrial and systems engineering graduate from the Hong Kong Polytechnic University. "I really enjoyed working with the MIT students throughout the week. Within a few days, we turned a great startup idea into a working prototype." 
A collaboration with the MIT Innovation Initiative and the MISTI MIT-China Program, MIT Kickstart was the inaugural program of the MIT Hong Kong Innovation Node, which officially launched in June. Led by faculty director Charlie Sodini, the Clarence J. LeBel Professor of Electrical Engineering, the Node plans to build on the success of Kickstart with more activities in the coming year, including a program designed for hardware system innovators during the Independent Activities Period in January 2017. With the recent appointment of new executive director Brian Yen, Sodini noted that the Node is just getting started and that "we will keep seeking opportunities that will foster continued dialogue and strengthen collaboration between students at MIT and Hong Kong."
To watch a video of highlights from MIT Kickstart 2016, click here.